Best Cat Litter Scoops For Wood Pellets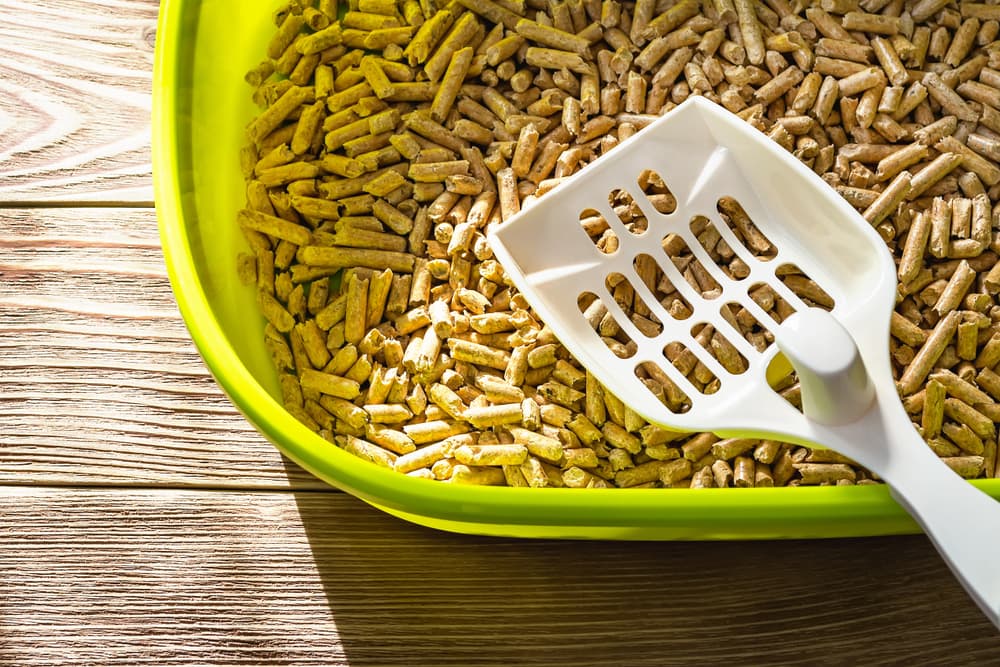 Caring for your feline friend involves a delicate balance of comfort, hygiene, and convenience. Among the many choices you make as a cat owner, selecting the right cat litter and accessories plays a pivotal role in maintaining your cat's well-being and your home's cleanliness.
In recent years, Cat litter comprised of Wood Pellets has gained popularity for its natural composition and exceptional odor control abilities. To maximize the benefits of using wood pellets, it's crucial to pair them with cat litter scoops specifically designed to handle their unique characteristics.
This article is your comprehensive guide to finding the Best Cat Litter Scoops for Wood Pellets.
Featured Products
best quality
EXPAWLORER Long Handle Cat Litter Scoop
A Cat Litter Scoop that comes with all the bells and whistles. Durable metal material, extendable handle, wide base, non-stick coating, and more.
best PRICE
The best-priced cat litter scoops for wood pellets that you'll ever find. What's unique about this one, is that you get two scoopers for the price of one!
best quality
Moonshuttle Metal Cat Litter Scoop
The ultimate blend between quality, price, design, and customer approval. You will find it hard to go wrong with this choice.
Understanding Wood Pellet Cat Litter:
Wood pellet cat litter is a game-changer in the world of feline hygiene. Crafted from compressed wood fibers, these pellets are renowned for their remarkable absorbency and odor-neutralizing properties.
Unlike conventional clay litters, which often contain additives and fragrances, wood pellets are natural and eco-friendly. When they come into contact with moisture, the pellets break down into sawdust, effectively absorbing liquids and locking away odors.
One of the standout advantages of wood pellet cat litter is its ability to manage odors without relying on artificial scents. The natural wood fibers work to suppress bacterial growth, reducing the likelihood of unpleasant smells permeating your living space. Additionally, the sawdust produced by the pellets' disintegration can be easily sifted out, leaving behind fresh pellets that can continue to absorb moisture.
While wood pellet cat litter offers impressive odor control and absorption, it's important to note that it requires a slightly different approach compared to traditional litters. Because of its unique composition, a compatible cat litter scoop is essential for efficient cleaning and maintenance.
Key Features to Look for in a Cat Litter Scoop for Wood Pellets:
Selecting the right cat litter scoop for wood pellet litter goes beyond the standard considerations. Wood pellets have a distinct texture and behavior, which necessitate specific features in a scoop to effectively handle them. Here's what you should prioritize:
1. Design and Size: Look for a scoop with a design optimized for scooping wood pellets. The scoop should have a larger surface area and sturdy construction to handle the bulkier pellets effectively. A scoop with curved edges can prevent pellets from scattering while you clean.
2. Spacing Between Tines: The gap between the scoop's tines should be designed to allow wood pellets to fall through easily while retaining larger waste, such as feces. This feature ensures efficient cleaning by separating the clean wood pellets from the waste, making the scooping process quicker and more effective. Conversely, some people prefer the spacing to be small. This allows them to use the Scooper as a filter, allowing the saw dust to fall through, while the pellets remain in the scooper.
3. Material and Durability: Opt for a scoop made from durable materials like sturdy plastics or metal. The scoop should withstand the demands of daily use without bending or breaking.
4. Ergonomic Handle: Cleaning the litter box is a routine task, so a comfortable handle design is crucial. Look for a scoop with an ergonomic handle that provides a secure grip and minimizes strain on your hand during use.
Choosing a cat litter scoop with these wood-pellet-specific features will streamline your cleaning routine and contribute to the longevity of your wood pellet cat litter's effectiveness. With the right scoop in hand, maintaining a clean and odor-free litter box becomes a hassle-free endeavor, benefiting both you and your feline companion.
Our Top Picks for Cat Litter Scoops For Wood Pellets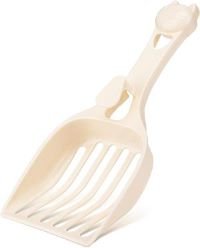 Plastic Material.
Features Wide Slits.
Lightweight.
Pros
Wide slits work well with most types of wood pellets.
Comes with a special hang-hole so it can be attached to your litter box.
Cons
Scoop and handle are a bit small.
Introducing the Great Litter Scoop by Depets, a versatile tool tailored for wood pellet cat litter enthusiasts. Its wide slits offer effortless sifting, ensuring clean wood pellets while securely retaining waste. The flat front edge facilitates corner cleaning, enhancing convenience. Crafted for pine pellet litter, it's a must-have for cat owners seeking efficiency.
Cleanup becomes a breeze with its smooth surface—rinse away litter clumps hassle-free. Crafted from robust plastic, this scoop guarantees lasting use, emphasizing durability and safety. Designed for practicality, the scoop's hang hole and hook save space by allowing easy storage on litter pans or hangers.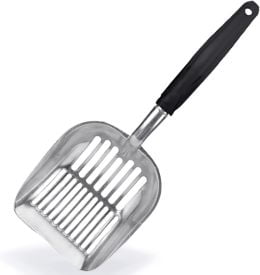 Aluminum Material.
Ergonomically Handle Design Grip.
Extra-wide design (5.1 inches)
Pros
Works well with various types of litters.
Metal design gives it long life.
Well priced.
Introducing the Aluminum Litter Scoop – an exceptionally lightweight yet sturdy cat litter scoop, perfectly aligned with the needs of wood pellet cat litter users. Its wider and larger design significantly reduces scooping frequency, providing precious time savings.
Crafted for versatility, this scoop effortlessly handles various litter types including wood pellets, clay, non-clumping, bentonite, walnut, pine, crystal, and more. Crafted from durable metal, it guarantees long-lasting performance, making it the ultimate scoop for all cat parents.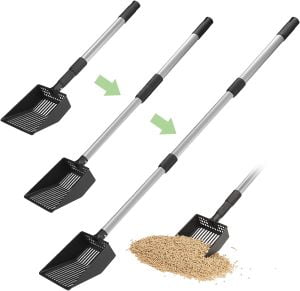 4.7 inches wide, 1.8 inches deep.
Handle length can be extended to 39.5 inches.
Stainless Steel for handles.
Scooper is made from Iron.
Pros
Can change handle length to scoop litter without having to bend over.
Multi-purpose scooper.
Made from high quality materials.
Introducing the ultimate solution for wood pellet cat litter maintenance: The EXPAWLORER Tall Cat Litter Scooper.
Experience lightning-fast sifting with its uniquely designed hollow bottom, ensuring quick separation of clean litter from waste. The deep shovel's optimal angle and spacious design eliminate residue and blind spots for thorough cleaning.
Say goodbye to bending over with the adjustable retractable handle, ranging from 21 to 39.5 inches. Crafted from durable metal with an electroplated sub-black finish, this scoop excels in longevity and rust resistance, far surpassing plastic alternatives.
The ergonomic stainless steel handle, complete with three black grip handles, enhances comfort and usability. Whether you're a multi-cat household or tending to other pets like dogs, chickens, lizards, or hamsters, this versatile tool serves as a reliable cleaning companion.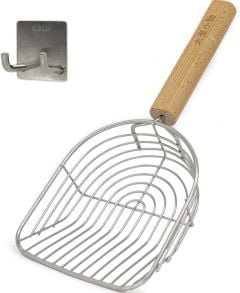 0.28 inches spacing between slits.
Two sizes available (4.9/5.2 inches wide)
Pros
Multiple variants available.
High quality materials and handle.
Wide spacing and evenly-sized slits.
Introducing the Vitisyao Stainless Steel Cat Litter Scoop – your ultimate solution for efficient and effortless cat litter maintenance, perfectly suited for wood pellets. With steel bars spaced at 0.28 inches, sifting through litter is a breeze, making it a must-have for multi-cat households seeking a faster and cleaner routine.
Crafted from high-grade aluminum, this corrosion-resistant scoop offers a durable, deep shovel design for long-lasting use. The ergonomic beech handle ensures comfort and prevents bending, while additional steel bars on the sides enhance stability and prevent litter spillage.
Pros
Works well with pellets.
Cheap and effective.
Unique design works surprisingly well.
Tailored for the needs of wood pellet users, this set features large openings that effortlessly sift through wood pellets while securely retaining solids. Its durable, waterproof construction ensures a hassle-free clean-up, with non-stick surfaces preventing any residue buildup.
The easy-grip design boasts anti-scatter sides and no-sift peaked blades, providing comfort and efficiency during use. Compact yet highly effective, this set fits snugly in smaller litter pans and reaches every corner of your cat's litter box.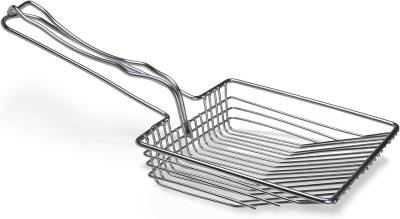 Lightweight Stainless Material.
Wide Scoop Design (6 inches)
Pros
Wide Scoop Design allows for faster clean up.
Cheapest stainless steel option in this list.
Made completely from steel, ensuring long life and durability.
Crafted with care by Van Ness, this sleek and modern stainless steel scoop effortlessly combines durability and practicality. Its large size and deep basket, featuring long, slender openings, make quick work of sifting wood pellets, minimizing dust and ensuring a cleaner litter box environment.
Designed with a beveled front edge, it efficiently tackles stubborn buildup. Lightweight and efficient, this scoop is a must-have for wood pellet enthusiasts seeking seamless cleanup and an odor-free space.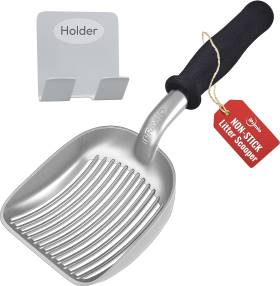 Metal Scoop.
Non-Stick Design.
4.9 inches wide.
Pros
Easy-to-use and comfortable handle.
Non-stick coating.
Durable and Metal design.
Introducing the Innovative iPrimio Cat Litter Scoop – a meticulously designed tool tailored for wood pellet cat litter.
Crafted by devoted cat owners, this scoop combines a sifter and shovel, expertly crafted from robust grey ABS plastic – the ideal match for wood pellets. Its ingenious amalgamation of the top-rated sifter and deep shovel offers a seamless scooping experience. The sifter spacing is optimized to effortlessly sift through while retaining waste, making cleaning a breeze. The slits are a bit narrow than usual, allowing you to treat this as a "shifter" (allowing the sawdust to fall through, but not the pellets).
Engineered with an ergonomic grip handle and fortified front edge, it tackles corners and large scoops with ease.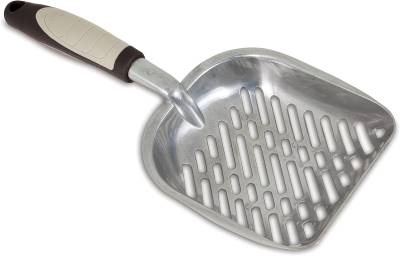 Metal Design.
Wide Scoop, 5.5 inches.
Deep (2 inches)
Pros
Durable Metal Design.
Large size makes litter cleaning a breeze.
Rubber handle makes using it a comfort.
Cons
The handle is known to be a little flimsy.
Crafted from sturdy die cast aluminum, this scoop ensures lasting durability while effortlessly handling the unique demands of wood pellet litter. Its ergonomic grip guarantees easy handling, allowing cat owners to maintain a clean litter box with comfort
Designed for all litter types, its adaptable scoop holes and built-in litter box rake effortlessly navigate through wood pellets, making cleaning a breeze. The slots are small enough that the pellets stay in the scoop while letting the sawdust sift out.
Crafted with hygiene in mind, this stainless steel scoop is easy to clean, ensuring germ-free surroundings for your feline companion.
Conclusion
In the world of cat care, where comfort meets cleanliness, the right tools can make all the difference. After a comprehensive exploration of cat litter scoops specifically designed for wood pellets, we've uncovered a trio of exceptional products that stand out for their unmatched performance. These scoops aren't just accessories; they're allies in your journey towards a hassle-free and hygienic litter box experience.
(Best Quality) EXPAWLORER Long Handle Cat Litter Scoop: Setting the benchmark for excellence, this scoop boasts a robust metal construction, extendable handle, and wide base—key features tailored to the unique needs of wood pellet litter. Its non-stick coating ensures effortless cleaning, while its thoughtful design adds convenience to your routine.
(Best for Price) Skoon Pooper Skooper (2 Pack): A true value find, this scoop package offers not one, but two efficient scoopers at an unbeatable price. It's a testament to practicality without compromise, making sure you're equipped for thorough cleanups without breaking the bank.
(Best Overall) Moonshuttle Metal Cat Litter Scoop: The gold standard of quality, affordability, and design, Moonshuttle's scoop is a pinnacle of customer satisfaction. With its seamless blend of features, it's a choice that instills confidence—a choice that resonates with cat owners who demand the very best.
Choose wisely, for these scoops aren't just tools; they're the embodiment of an enhanced cat care experience.