Best Orthopedic Beds For Senior Cats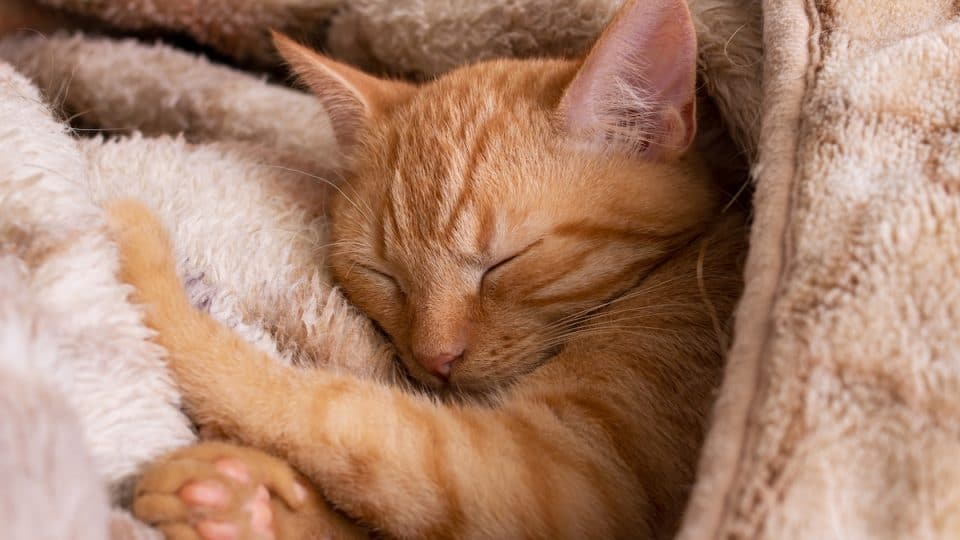 As our pet cats age, they may experience various health challenges, particularly in their joints and bones. Senior cats often suffer from arthritis, joint stiffness, and other orthopedic issues, which can significantly impact their quality of life. As devoted pet owners, it becomes our responsibility to ensure that they receive the utmost care and comfort during their golden years. The answer to which is Orthopedic Beds for senior cats.
Orthopedic beds designed specifically for senior cats have emerged as a practical and effective solution to address their unique needs. These specialized beds offer superior support and cushioning, alleviating pressure on sensitive joints and promoting better rest and relaxation. However, with a wide range of options available on the market, selecting the best orthopedic bed for your senior cat can be overwhelming.
In this article, we will explore the top-rated orthopedic beds tailored to meet the needs of aging feline companions. Our comprehensive review will guide you in making an informed decision to provide your beloved senior cat with the ultimate comfort and well-being they deserve.


What is an Orthopedic Cat Bed?
Orthopedic cat beds represent a thoughtful and innovative solution tailored to cater to our aging feline companions. These beds are uniquely designed, typically featuring a thick padding that molds itself to the contours of the cat's body. The density of the foam or padding plays a crucial role in providing enhanced cushioning for the joints, effectively relieving pressure points. For cats that may face mobility challenges, such beds are vital in preventing the development of painful bed sores.
Moreover, some orthopedic beds even mimic the structure of mattresses, incorporating coil inner springs beneath a padded surface. The increased thickness of these beds ensures easier accessibility for cats to get on and off without undue strain on their bodies. Additionally, the elevated design keeps them away from cold surfaces like concrete, promoting a warmer and more comfortable resting environment. As we delve into the essence of orthopedic cat beds, we discover the remarkable benefits they offer to our beloved feline friends in their senior years.
Why You Need Orthopedic Beds For Senior Cats
As our pets age, their well-being becomes a top priority. Offering a soft and supportive resting place is particularly crucial for older cats, those recovering from illness or surgery, or facing joint issues. Orthopedic cat beds provide the ideal solution to cater to their unique needs.
With reduced muscle tone and diminished circulation in their later years, senior cats require a warm and cushioned surface to rest comfortably. Additionally, overweight cats face increased stress on their joints, potentially leading to arthritis at an early stage. By providing an orthopedic bed with extra padding and warmth, we can significantly improve their quality of life and alleviate joint discomfort.
Ensure your beloved senior cat enjoys a restful sleep and a happier, healthier life with the right orthopedic bed tailored to their needs.


Quick Overview for the Best Orthopedic Beds For Senior Cats
best quality
Bedsure Round Cat Beds for Indoor Cats
The Bedsure Round Cat Bed for Indoor Cat is the best quality orthopedic cat bed. It has soft sherpa fabric as well as 6 inch high walls to support your cat's head and neck!
best for price
MIXJOY Calming Cat Beds for Indoor Cats
The Mixjoy Calming Cat Bed is the perfect choice for buyer's with a budget constraint. It is available in 4 different sizes with multiple colors to choose from!
Best overall
The best overall orthopedic bed is by Bedsure. This bed has it all and much more. It is the perfect choice for customers who want to purchase the best the market has to offer!
Factors to Consider When Choosing an Orthopedic Bed For Senior Cat
Here are some factors that you need to consider when buying an orthopedic bed for your senior cat, it's crucial to consider these to ensure you make the best choice for your pet cat:
Construction and Material: High-density foam or memory foam for optimal joint support and pressure relief.
Size and Shape: Choose a bed that accommodates your cat's size and allows easy access.
Cover Material: Opt for a soft, durable, and easy-to-clean cover, preferably removable and washable.
Cat's Preferences: Consider whether your cat prefers bolstered edges or a flat surface.
Customer Reviews and Ratings: Check feedback from other pet owners to assess the bed's quality and customer satisfaction.
Non-Slip Base: Look for a bed with a non-slip base to provide stability and prevent accidents.
Temperature Regulation: Some beds offer cooling gel or breathable materials for a comfortable sleeping temperature.
Durability: Choose a bed that can withstand scratching or kneading if your cat has these habits.
Health Conditions: Consult with your veterinarian to select a bed that suits any specific health needs your senior cat may have.
Budget: Set a budget and find a bed that balances affordability with quality to ensure long-term comfort for your cat.
By considering these essential factors, you can confidently choose the perfect orthopedic bed that will support your senior cat's health and happiness in their golden years.
Our Top Picks for Orthopedic Beds For Senior Cats
Here are the some of the best orthopedic beds for senior cats that you can buy at amazon along with a detailed description of which product may suit your cat best:
1. Best Friends by Sheri Donut Cat Bed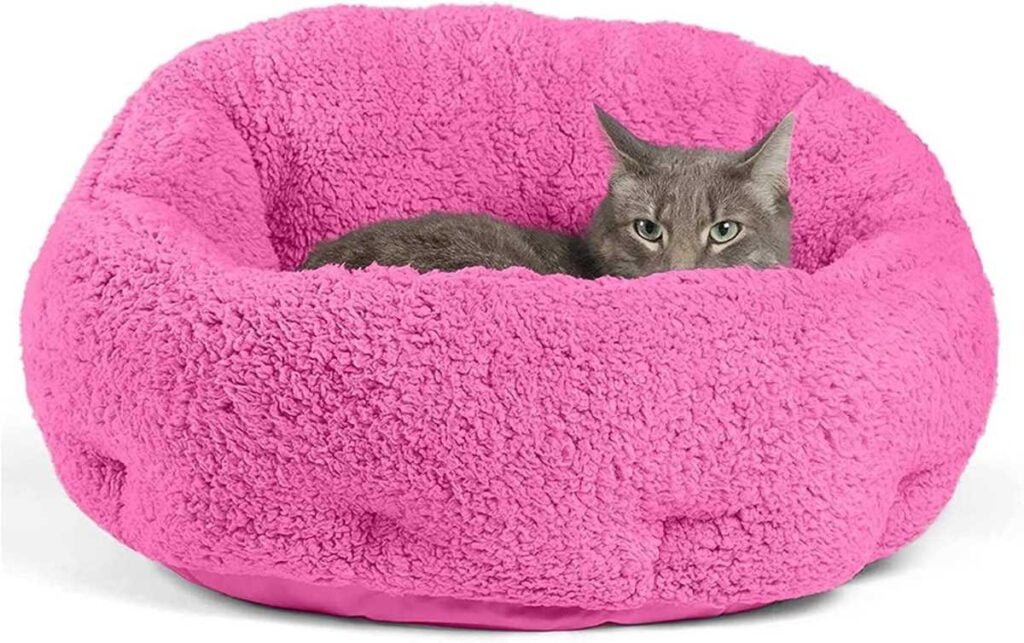 4 different sizes to choose from
20 different colors to match your home furniture
Made of fiber material
Pros
Deep dish styled cat bed to with generously high walls providing comfort and security to pets.

Can be used for all ages of cats as well as for dogs.

Has a cozy headrest that your pet can relax onto.
Cons
Some buyers reported bad experience with washing the bed.
Experience Luxurious Comfort and Support with the Best Friends by Sheri Donut Cat Bed. Designed to cater to cats of all ages and sizes. This cozy haven ensures your furry friend enjoys the ultimate relaxation.
The high walls of this bed create a sense of security, offering warmth and promoting restful sleep for enhanced health and behavior. The flexible design moves with your pet, ensuring their comfort in various sleeping positions. With a 12″ rear bolster wall to ease joint pain and a 9″ front for head, neck, and orthopedic support, this bed is thoughtfully designed for maximum comfort.
Crafted with premium materials, including skin-friendly CoziLOFT fibers, this bed guarantees lasting quality and comfort for your beloved pet.
2. MIXJOY Calming Cat Bed for Indoor Cats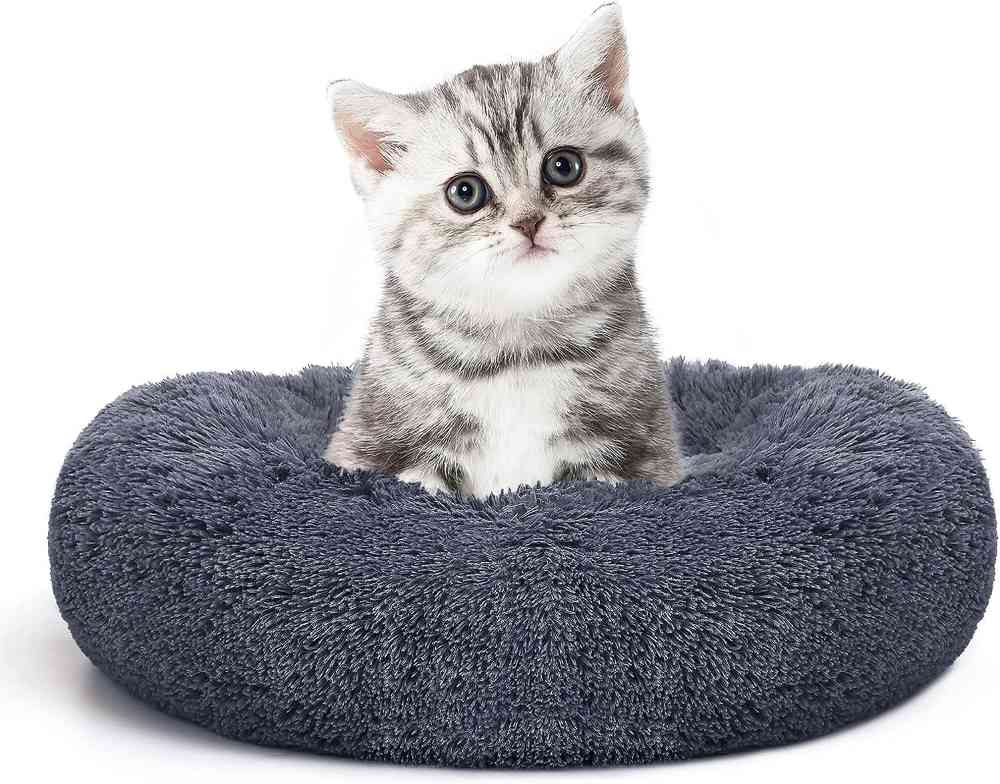 4 different sizes to choose from
Non Skid Bottom
Made of Faux Fur and Nylon
Pros
The faux fur material is not only high quality but also provides great comfort to your pet.

3 different sizes according to your pet's size to provide comfort to them.

Can be machine washed so no need to worry about keeping the bed clean.
Cons
An aggressive cat may chew or claw through the soft material.
Indulge your indoor cats in iltimate comfort with the MIXJOY Calming Cat Bed. Crafted with plush faux shag fur, this round bed offers exceptional softness and warmth, ensuring your beloved pets enjoy restful sleep and improved well-being.
The nest-like design with raised rims provides a secure haven for your furry friends, promoting feelings of security and relaxation. Available in three sizes, including 20-inch for small cats (up to 15 pounds), 23-inch for medium to large sized cats (up to 25 pounds), as well as a 30-inch size option, this bed caters to various sizes.
The non-skid bottom prevents shifting, while easy machine washing keeps the bed clean and inviting. It is the perfect bed to elevate your pet's comfort with this inviting, easy-to-care-for bed, available in natural colors to seamlessly match your home decor.
3. Furhaven Orthopedic Cat Bed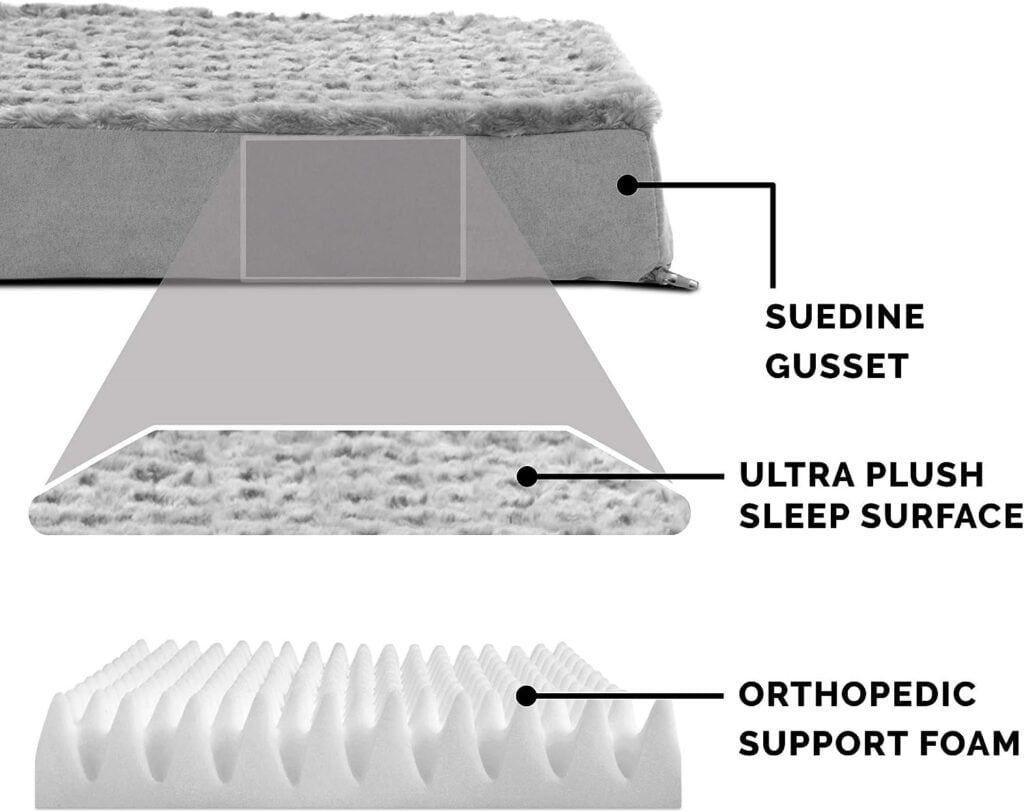 Available in 5 different sizes
Has 4 different types of foams
Removable top cover for easy wash
Pros
The bed mattress provides plenty of space for your pet to sleep in to.

Sleep surface has thick cuddly cussions to provide snuggle comfort.

The underlying orthopedic foam mattress provides comfort to joints.
Cons
The waterproof top makes it a little less breathable for pets.
The Furhaven Orthopedic Bed is designed for both dogs and cats. This classic mattress-style bed provides ample room for pets to sleep in various positions.
The gusseted sides offer extra cushioned loft, enhancing nestling and lounging comfort. The plush curly faux fur sleep surface is gentle on noses and paws, promoting enhanced snuggling. The egg crate orthopedic foam mattress distributes body weight, cushions pressure points, and improves air circulation, ensuring a restful sleep for your furry friend.
This bed is certified by CertiPUR-US and is free from harmful substances. It comes with a machine-washable cover for easy maintenance. You can choose from multiple sizes to accommodate pets of all sizes and give them the comfort they deserve.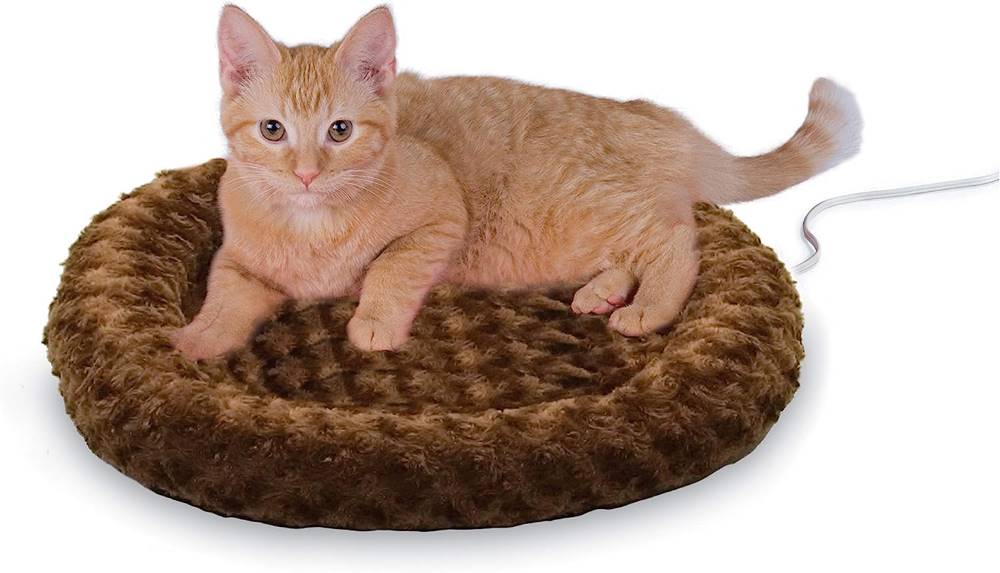 Base heated bed
Removable waterproof heater
Orthopedic foam
Pros
Automatic electric heater to warm the bed to your cat's temperature whenever it sits inside the bed.

Extremely energy efficient and thermostatically controllable.

Machine washable as the cover can be removed for easy wash.
Cons
Only good for cold weathers as the bed gets a little too warm.
The K&H Heated Thermo-Cat Bed is specially recommended for cat owners who live in a cold region. This heated cat bed features a soft orthopedic foam base and over-stuffed bolsters, creating a secure and cozy haven for your pet.
Thermostatically controlled, the electric heating warms to your cat's body temperature only when they're in the bed, ensuring optimal comfort. The bed is energy-efficient and low wattage, with a removable K&H Pet Bed Warmer for year-round use. The removable cover is machine washable for easy care.
Safety is a priority, with MET Labs certification exceeding USA/CA electrical safety standards. Available in two sizes and colors, the K&H Thermo-Kitty Fashion Splash is a trusted choice backed by over 20 years of experience in crafting innovative, quality pet products.
5. K&H Pet Products Thermo-Kitty Bed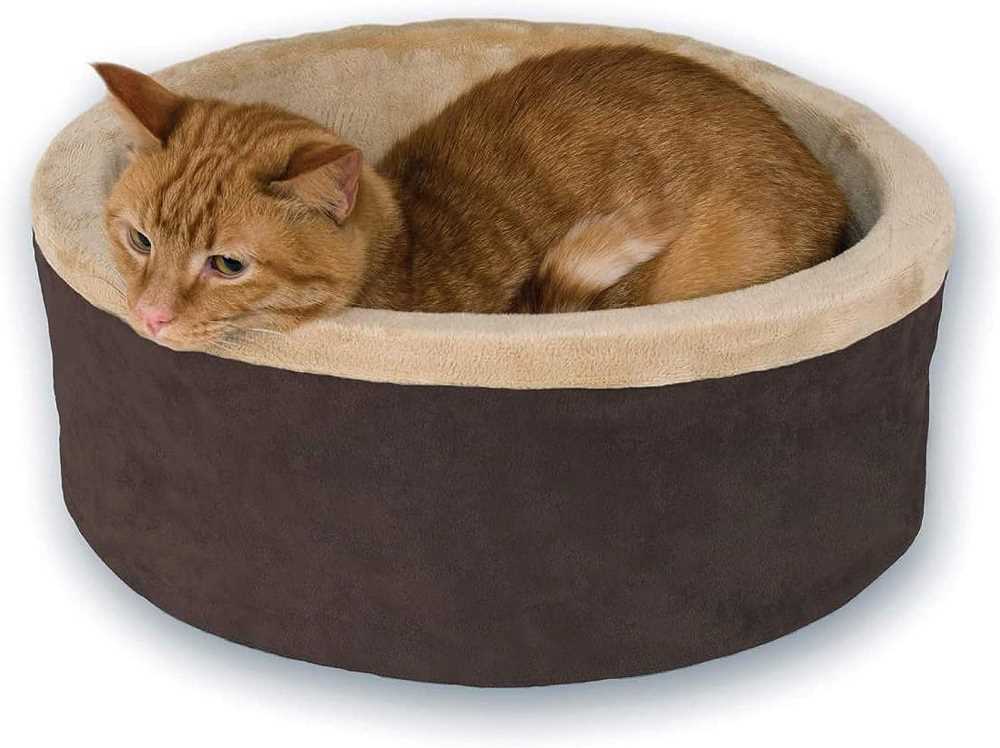 Heated Pet Bed
Made of Polyester
Machine Washable
Pros
6 inches tall soft foam walls for cats that like security.

Automatic heater that warms the bed once your cat snuggles in.

4 watt heater is removable during warmer seasons.
Cons
Not suitable for big and heavy cats.
This is another great heating bed by K&H, specially made for kittens. This indoor heated cat bed boasts 6-inch-tall soft foam walls that cradle your cat, offering both comfort and security.
The thermostatically controlled electric heating warms to your cat's body temperature when they're in the bed, ensuring their well-being. With low wattage and energy efficiency, the 4-watt heater is removable for year-round use.
The bed features a removable cover for convenient machine washing. Safety is paramount, with MET Labs certification exceeding USA/CA electrical safety standards. Available in two sizes, the K&H Thermo-Kitty Bed is suitable for small dogs as well.
6. MidWest Homes for Pets Orthopedic Bed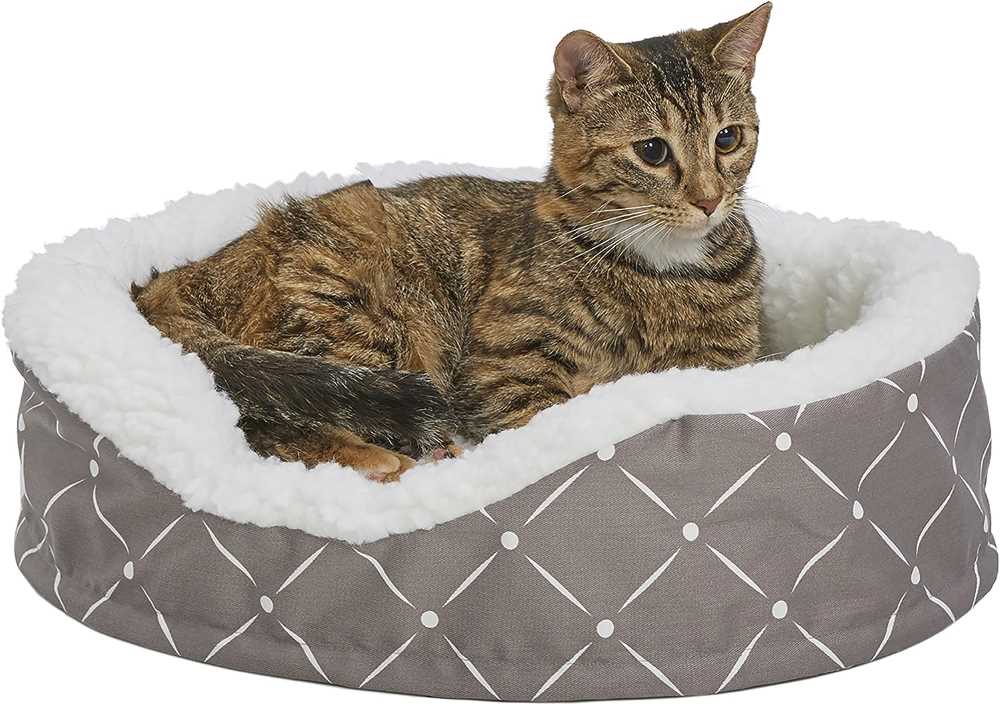 Made of Faux Leather
For Small Cats and Kittens
Soft fleece top
Pros
Soft layer of fleece makes it highly comfortable for pets.

Has an egg crate cushion that is designed to retain shape and reduce stress of pressure points.

High bolster to help your cat snuggle into the bed.
Cons
Only for small cats or kittens.

Elevate your pet's comfort with the MidWest Homes for Pets Orthopedic Bed. This soft fleece convoluted cuddle pet bed in a stylish mushroom and white diamond pattern offers a luxurious resting spot for your beloved pet.
The egg-crate base soothes aching joints and muscles, providing therapeutic support. The bed also features a cozy high bolster perfect for pets who love to nestle before laying down. Additionally, the "no-slip" grip on the bottom ensures stability on hardwood or tile floors.
The machine washable and dryer-friendly removable case with a hidden zipper ensures easy cleaning. With designer print fabric and exquisitely soft fleece, this bed combines comfort and sophistication, making it a perfect addition to your home decor.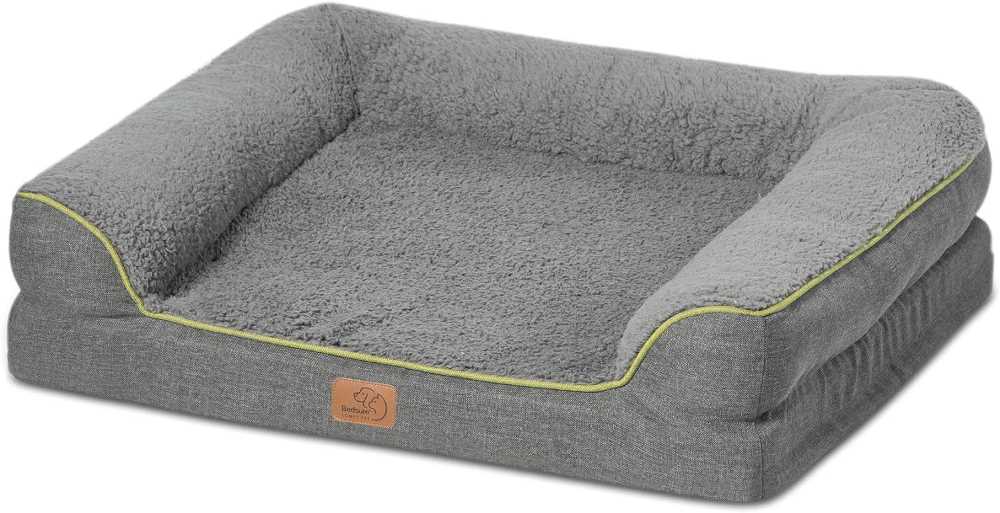 Orthopedic memory foam
Fluffy cloud sherpa surface
3 Different sizes to choose from.
Pros
Made of linen, memory foam and rubber, this bed offers high quality and comfort.

3 sided pillow bolster makes it easy for pets to sleep in various positions.

The memory foam doesn't go flat and is perfect for pets with arthritis and aching joints.
Offer your furry companions the Bedsure Orthopedic Cat Bed, a versatile and cozy sofa bed designed for their ultimate comfort. This pet sofa bed is a perfect space for medium, large, and extra-large dogs or multiple cats to relax and rest, be it in rooms, crates, or cars.
The creamy and grey contrasting design seamlessly blends into any home decor, ensuring both style and comfort. The quality construction features a faux linen fabric outer cover that resists stains, fur, and liquid absorption. The 2.5″ thick memory foam base and arm stuffing offer a moderately firm feel, reminiscent of a real sofa. The smart bed design includes detachable, pillow-like bolsters for various sleep positions and easy washing. The non-slip bottom with rubber bits ensures stability.
With memory foam providing softness and support, this bed is perfect for pets of all ages, soothing aching joints and promoting restful sleep. Cleaning is a breeze with the removable cover that's machine washable and dryer-friendly. While it is a bit expensive, regardless your pets deserve the best, and the Bedsure Orthopedic Cat Bed delivers comfort and style in one package.
8. Bedsure Round Cat Beds for Indoor Cats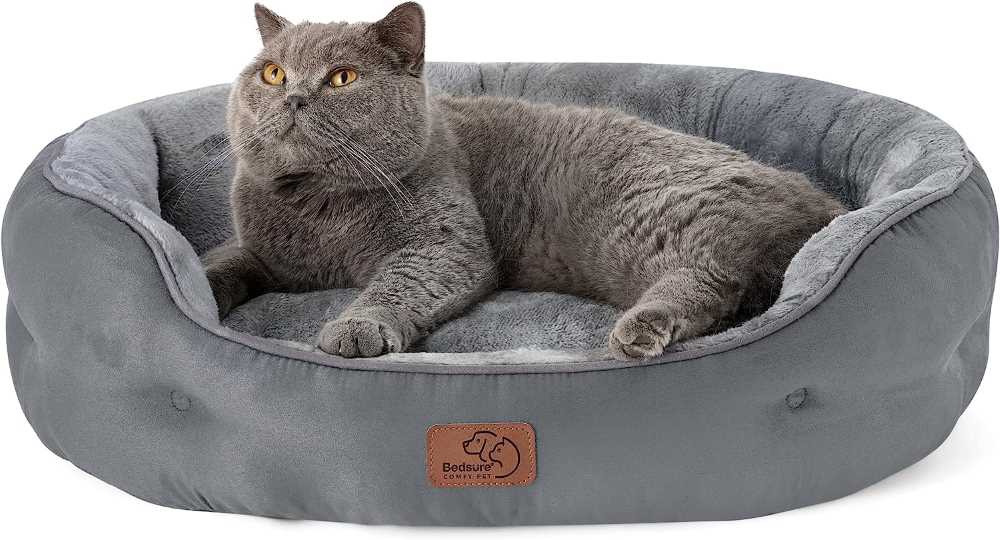 3 different sizes to choose from
Super soft micro fiber fleece
Has multiple color varities
Pros
The material is extremely soft making it super comfortable for cats.

Non slip bottom ensures that the bed doesn't move around too easily.

6 inch walls to support your pet's head and neck.
Introducing the Bedsure Round Cat Beds for Indoor Cats, a haven of comfort designed to cater to your feline friend's ultimate relaxation. Crafted with super soft microfiber fleece, this bed offers a warm and inviting space for your cat to curl up and sleep.
The sturdy exterior fabric adds an elegant touch to your home decor. The flat, slip-resistant oxford bottom ensures the bed stays in place on smooth surfaces. With 6-inch high walls, the Bedsure Pet Bed supports your pet's head and neck, creating the perfect cuddling environment.
It is Available in two sizes for small to medium cats, this bed accommodates pets of any age. The reversible bed comes with a removable pillow cushion that is completely machine washable, making cleaning a breeze. Pamper your beloved pets with a cozy retreat that guarantees comfort, safety, and lasting quality.


Frequently Asked Questions (FAQs)
Here are some of the most commonly asked questions for pet owners that are trying out a orthopedic bed for their senior cats, hopefully this helps you clear away any further doubts you may have on this topic:
Q1: What are orthopedic beds for senior cats and why are they important?
Orthopedic beds for senior cats are specially designed sleeping surfaces that provide comfort and support for older feline companions. As cats age, they may develop joint issues, arthritis, and muscle stiffness, making it crucial to provide them with a comfortable place to rest.
Orthopedic beds feature memory foam or supportive padding that conforms to the cat's body, relieving pressure on their joints and promoting better sleep quality. These beds are important for maintaining the overall well-being of senior cats by reducing discomfort and enhancing their mobility.
Q2: Can orthopedic beds help with joint problems in senior cats?
Yes, orthopedic beds can provide significant relief for senior cats with joint problems. The supportive padding or memory foam in these beds helps distribute weight evenly, reducing pressure on joints and alleviating pain. They promote proper spinal alignment and can help increase blood circulation, which is especially beneficial for cats with arthritis or other mobility issues.
Q3: Can I use an orthopedic bed for a younger cat?
Absolutely! While orthopedic beds are designed with senior cats in mind, younger cats can also benefit from the comfort and support they offer. Providing an orthopedic bed from an early age can help prevent joint issues and promote better sleep habits throughout your cat's life.
Q4: How often should I replace my cat's orthopedic bed?
The lifespan of an orthopedic bed depends on its quality and your cat's usage. High-quality beds can last several years, but if you notice visible wear and tear, flattened padding, or your cat seems less comfortable, it's time to consider a replacement. Regularly inspect the bed and assess your cat's comfort level to determine when it's time for a new one.


Conclusion
In conclusion, providing your senior cat with the right orthopedic bed is an essential step towards ensuring their comfort, health, and overall well-being. As our feline companions age, their needs change, and investing in a quality orthopedic bed can make a world of difference. After considering factors such as size, material, support, ease of cleaning, and durability, you can make an informed decision that suits your cat's specific needs.
For those seeking the best quality, the Bedsure Round Cat Bed for Indoor Cats stands out with its soft sherpa fabric and 6-inch high walls that provide optimal support for your cat's head and neck.
If budget is a concern, the MIXJOY Calming Cat Bed offers a fantastic option. Available in various sizes and colors, it's a cost-effective choice that doesn't compromise on comfort.
However, for the best overall orthopedic bed, look no further than the Bedsure Orthopedic Cat Bed. This premium choice combines all the essential features and more, ensuring your senior cat's comfort and happiness. Investing in the right orthopedic bed is an investment in your cat's quality of life, allowing them to enjoy their golden years with utmost coziness and relaxation.