Best Arthritis Supplements For Cats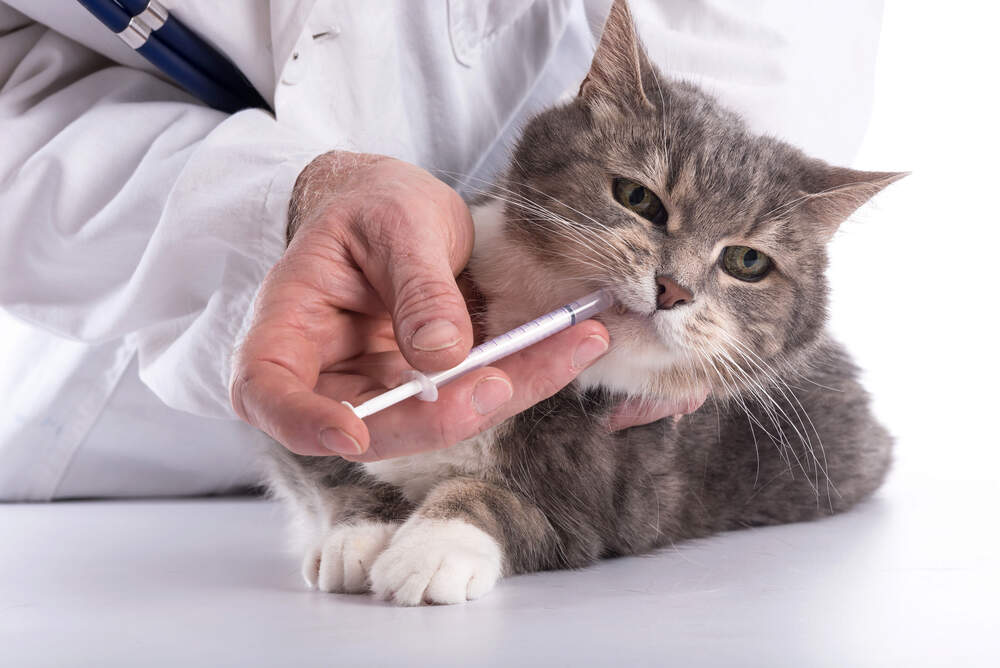 Arthritis poses significant health hazards for cats as they age, leading to pain, stiffness, and reduced mobility. These challenges can diminish a cat's quality of life, hindering their ability to move and play freely. While there's no cure for this, arthritis supplements for cats can play a vital role in alleviating discomfort and promoting joint health. In this article, we'll highlight the best arthritis supplements for cats, which can help improve their well-being and enhance their daily activities.
By providing essential nutrients and supporting joint function, these supplements are a valuable addition to your cat's care regimen. In the following sections, we'll delve into the specifics of these supplements, exploring their benefits and how they can make a positive difference in the lives of your beloved feline companions.
Featured Products
best quality
The Super Snouts Joint Power powder formula is a highly effective supplements for cats with arthritis. It can easily be mixed into food or drinks for cats.
best FOR PRICE
The Pet Naturals chews are seafood flavored that are soft and easy to administer. They are bound to get your cats jumping and running around.
best OVERALL
The highly recommended Nutramax Cosequin supplement is not only potent but good for your cat's overall health. It is specially made for Arthritic cats to get your joints back to their former healthy state.
Factors to Consider Buying Arthritis Supplements for Cats
When seeking arthritis supplements for your feline companion, it's crucial to make well-informed choices to ensure their health and comfort. Here are several factors to consider when buying arthritis supplements for cats:
Ingredients: Examine the supplement's ingredients carefully. Look for key components such as glucosamine, chondroitin, and omega-3 fatty acids, which are known for their joint-supporting properties. Avoid supplements with unnecessary fillers or potential allergens.
Form: Arthritis supplements for cats come in various forms, including chewable tablets, capsules, powders, and liquid formulations. Choose the form that your cat is most comfortable with and that best fits their dietary preferences.
Quality: Select supplements from reputable brands known for their quality and safety standards. Check for third-party testing and certifications to ensure the product's purity and effectiveness.
Dosage and Administration: Understand the recommended dosage and administration instructions. Ensure it aligns with your cat's age, weight, and specific needs. Some supplements may require a loading dose initially.
Flavor and Palatability: Cats can be picky eaters, so consider the flavor of the supplement. Opt for options that are appealing to your cat to make administration easier.
Price: While price should not be the sole determining factor, consider the cost of the supplement and whether it fits your budget. However, prioritize the quality and efficacy of the product.
Consult Your Veterinarian: Before introducing any new supplement, consult your veterinarian. They can provide personalized recommendations based on your cat's health status and needs.
By taking these factors into account, you can make an informed decision when purchasing arthritis supplements for your cat, ultimately contributing to their overall well-being and comfort as they manage the challenges of arthritis.
1. Nutramax Cosequin Health Supplement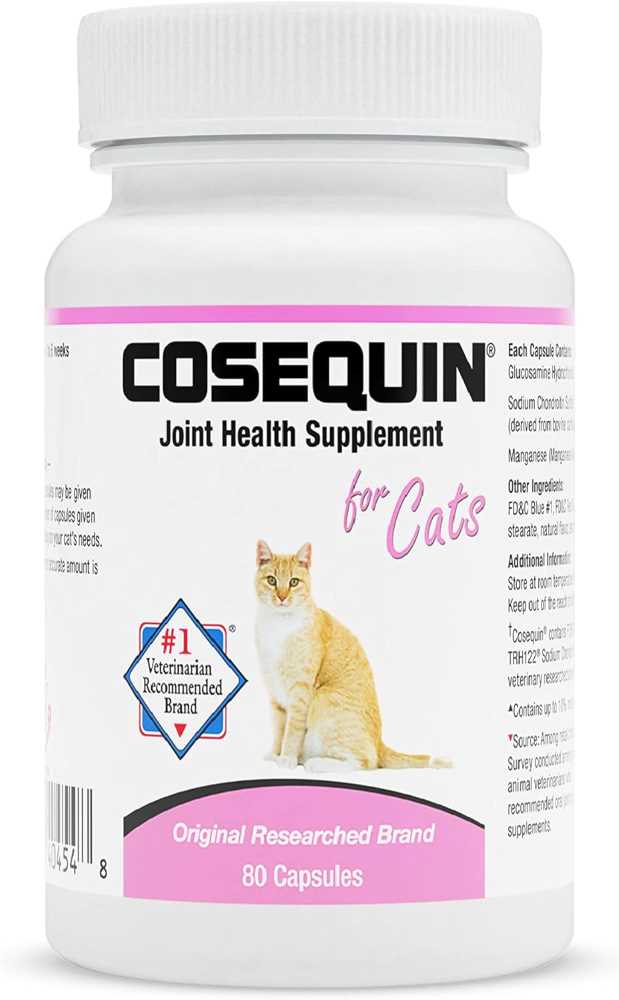 Capsule Form
Contains 80 Capsules
With Glucosamine and Chondroitin
Pros
Easy to Feed as cats love its taste.
For cats of all ages and size.
Glucosamine and Chondroitin help support joints and reduce pain..
Cons
May need to purchase more bottles for a period of time to see effective results.
Introducing Nutramax Cosequin, the ultimate solution for feline joint health support. Crafted by Nutramax Laboratories Veterinary Sciences, the leading name in veterinarian-recommended supplements, Cosequin for Cats combines the power of glucosamine hydrochloride and sodium chondroitin sulfate to promote healthy joints in your beloved feline friend.
Their easy-to-administer capsules make maintaining your cat's joint health a breeze. Whether you have a petite kitty or a larger cat, Cosequin is available in a variety of sizes to suit your needs.
With over 30 years of expertise in pet health, Nutramax Laboratories Veterinary Sciences ensures the highest quality and safety standards in every product. Cosequin is manufactured in the United States, using globally sourced ingredients, and is the #1 veterinarian recommended retail joint health supplement brand, as validated by small animal veterinarians.
Give your cat the gift of comfort and mobility with Cosequin, a trusted and scientifically backed solution for their joint health. Order Cosequin today and watch your feline companion move with ease and grace.
Pros
Supports connective tissues and joints.
Fish shaped chews that even a picky cat eater wont deny.
Contains 6 beneficial ingredients for arthritic cats.
Cons
One packet of chews isn't enough.
Enhance your cat's quality of life with Pet Naturals Hip and Joint Support Supplement. Crafted with trust in mind, this supplement is formulated with a powerful blend of joint-supporting ingredients, including Glucosamine, Chondroitin, MSM, and Perna Canaliculus. These components work in harmony to alleviate joint discomfort and stiffness, making it easier for your cat to jump, move, and enjoy everyday activities.
Cat-specific flavor is a key feature, as the delicious fish flavor ensures even the most finicky felines will eagerly devour these chews. Plus, with no artificial ingredients, wheat, or corn, you can feel confident in your choice to support your cat's joint health naturally.
Formulated and manufactured in the USA, with input from a Veterinary review board, Pet Naturals Hip and Joint Support Supplement is your trusted solution for promoting joint strength, comfort, and mobility in your beloved pet.
Watch for subtle signs of hip and joint issues, as cats are adept at masking pain. Grooming difficulties, litter box challenges, or struggles with leaping onto furniture can all be indicators that your cat would benefit from the support of this supplement. Keep your kitty's joints youthful, provide the power for that pounce, and ensure they lead a pain-free and active life with Hip+Joint.
Pros
The Soft chews make it easier for elderly cats to eat them easily.
Also contains omega-3 fatty acids for overall health benefits.
Supports joint comfort.
Cons
Resealable bag needs to be closed tightly otherwise the chews become hard after some time.
Nutramax Dasuquin Joint Health Supplement is the premium choice for ensuring your cat's joint health and overall wellness. Formulated with the expert guidance of Nutramax Laboratories Veterinary Sciences, a leader in pet health for over 30 years, Dasuquin soft chews are the #1 veterinarian recommended joint health supplement brand.
This extraordinary supplement combines the potent trio of glucosamine hydrochloride, chondroitin sulfate, and avocado/soybean unsaponifiables (ASU) to support your pet's joint health. The inclusion of omega-3 fatty acids in each soft chew further bolsters your cat's overall well-being.
Manufactured in the United States with globally sourced ingredients, Dasuquin is synonymous with quality and reliability. Nutramax Laboratories Veterinary Sciences ensures that their supplements are veterinarian formulated, using high-quality ingredients, to guarantee your pet receives a safe and effective supplement.
Trust in the science and experience behind Dasuquin, and provide your pet cat with the best support for healthy joints and overall vitality. Make the choice that veterinarians recommend, and let your cat enjoy a life full of comfort and well-being.
Pros
Can be mixed with daily meals so no headache about the cat vomitting it up.
100% refund available if you don't see results.
Reduces joint pain & Inflammation. Improves flexibility & mobility.
The Paramount Pet Health 100% Natural Glucosamine for Cats is a true game-changer for cats experiencing joint pain and mobility issues. Even the most finicky feline will readily accept this liquid glucosamine, eliminating the struggle of administering solid treats.
With a human-grade formula boasting 260mg of Glucosamine, 50mg of Chondroitin, and 120mg of MSM, this supplement swiftly alleviates your cat's painful limp and rejuvenates their mobility. Aging cats facing joint discomfort can regain their vitality and grace, making every leap and play a joyful experience.
The premium-quality, USA-made product is a testament to safety and efficacy, as vet-recommended ingredients ensure the well-being of your beloved pet. The noticeable change is remarkable, often visible in as little as a week. And, should you not see the life-changing results promised, the product comes with a 100% money-back guarantee. Paramount Pet Health has truly crafted a powerful, life-improving solution for our cherished feline companions.
Pros
Can be put on the cats paw for it to enjoy licking or mixed with food.
Combines  glucosamine, chondroitin and MSM with antioxidants to help maintain healthy joints.
Can be given to cats of all ages.
Cons
Some cats may not appreciate having the gel put on their paws. Therefore, it would need to be mixed into their food.
This delightful salmon liver-flavored Nutri-vet gel is a tasty way to support your cat's joint health at every life stage. Formulated by veterinarians, it combines the power of glucosamine, chondroitin, MSM, and antioxidants to maintain healthy cartilage and joint function.
The great taste of this gel makes it a delightful treat that your cat won't be able to resist. Simply reward your cat with a lick, and you'll be providing them with essential joint support. Made in the USA with premium ingredients and backed by the National Animal Supplement Council (NASC) quality seal, you can trust the quality and consistency of Nutri-Vet products.
It is very rare to come across supplements in gel form, and this product delivers that with the promise of healthy joints for your cat. You can trust Nutri-vet gel to keep to it's promise and get your cat jumping over the couch and around the house, in no time.


Pros
Made from Green Lipped Mussels that are natural with no fillers added.
Supports joints, ligaments, tendons and connective tissues.
Also helps support eye health, brain and heart function, cardiovascular health and maintenance of healthy skin.
Cons
The product smells a bit highly of green mussels so it needs to be mixed well into food.
Introducing Super Snouts Joint Power, a revolutionary supplement packed with the pure goodness of New Zealand Green Lipped Mussel. With no fillers, our cold-processed mussels retain vital nutrients and boast lipid stabilization for extended shelf life. This potent formula delivers a boost to mobility by supporting the structural integrity of joints, ligaments, tendons, and connective tissues.
Experience a comprehensive enhancement to your pet's health, as Joint Power not only promotes joint mobility but also fortifies the immune response with natural omega-3 fatty acids. Harness the power of bioactive substances for overall well-being, including joint flexibility, eye health, brain function, heart health, and maintenance of healthy skin. Say goodbye to joint stiffness, as Joint Power supports ease of discomfort arising from normal daily exercise and activity. Elevate your pet's vitality with Super Snouts Joint Power—the key to a healthier, happier life.


Pros
Liquid formula easy-to-use and administer.
Specially formulated with glucosamine, chondroitin and MSM.
Supports joints, cartilage health and alleviates discomfort in joints.
Cons
The flavor may not entice some cats.
Liquid Health presents Joint Purr-Fection, a premium cat supplement specially crafted to support hip and joint health. Infused with Glucosamine, Chondroitin, Hyaluronic Acid, and the strengthening benefits of Opti-MSM, this liquid formula ensures fast absorption for quicker and longer-lasting results. Administer daily for increased flexibility, active lifestyles, and a rejuvenated feline vitality.
Ideal for cats of all ages and sizes, the liquid drops come with an organic beef gravy flavor your cat will love, making it easy to incorporate into their routine. Free from additives like sugar, starch, salt, wheat, gluten, yeast, milk, or soy derivatives, it's a delicious and healthy choice. Elevate your cat's joint health with Liquid Health Joint Purr-Fection – veterinarian-approved, NASC-approved, and a trusted solution for feline well-being.


Conclusion
In conclusion, prioritizing joint health is pivotal in ensuring a cat's enduring vitality. The market offers a range of supplements designed to support feline joints, and the key lies in regular, consistent usage.
A holistic approach, encompassing both these supplements and routine veterinary check-ups, contributes to a cat's overall well-being. Proactive joint care is paramount for sustaining an active and joyous life for our feline companions.
By incorporating such practices, cat owners can facilitate increased flexibility and comfort, allowing their pets to relish every playful moment and maintain a high quality of life throughout their journey.