Best Automatic Cat Feeder for Multiple Cats in 2023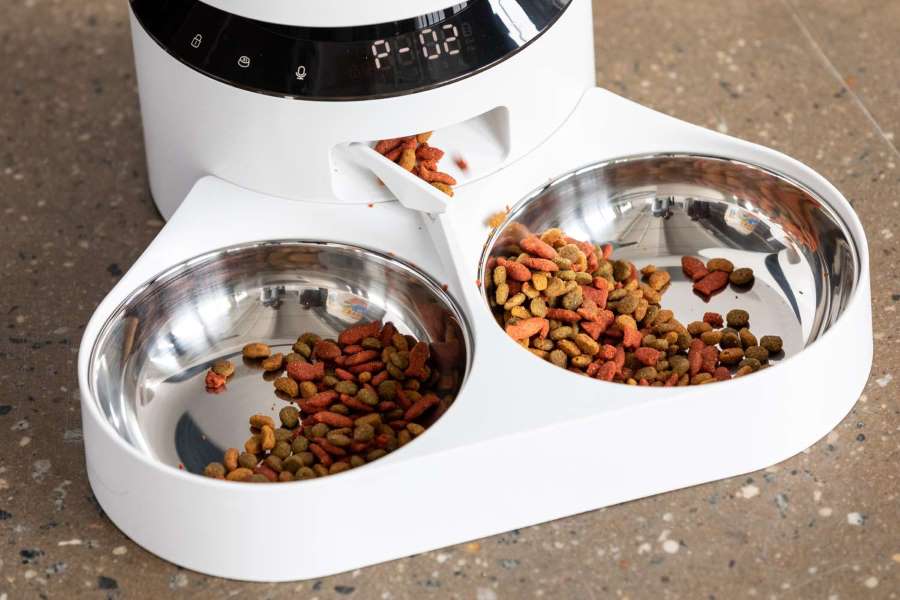 Caring for multiple cats can be a rewarding experience, but it also comes with its challenges, especially when it comes to feeding time. Cats have their unique dietary needs and feeding schedules, and ensuring each feline gets the right amount of food can be a daunting task. This is where automatic cat feeders for multiple cats come to the rescue. These innovative devices offer convenience and peace of mind, ensuring your furry companions are well-fed even when you're not around.
In this article, we will explore the best automatic cat feeder for multiple cats available on the market, and discuss the factors to consider before making a purchase.
The Need for Automatic Feeders for Multiple Cats
Feeding multiple cats can be a juggling act, especially if you have busy schedules or irregular working hours. Manual feeding may require you to be present at specific times, which can be challenging if you're away from home or occupied with other tasks.
Automatic cat feeders offer a convenient solution by allowing you to program feeding times and portion sizes in advance.
When it comes to multiple cats, individual feeding requirements and dietary preferences can vary. Some cats may require specialized diets due to health conditions, while others may have different appetites. Automatic feeders for multiple cats enable you to customize feeding schedules and portion sizes for each cat, ensuring that they all receive the right amount of food at the right time.
This can help prevent overeating, obesity, and food aggression issues among your feline companions.
Featured Products
best quality
PetSafe Automatic Pet Feeder with 2-Pet Meal Splitter
If it weren't for the hefty price, this would be the best product in this list. In terms of features though, this out ranks every other feeder in this list. If price is not an issue, this is the one for you.
best Received By CUSTOMERS
Garfeur Automatic Cat Feeders for 2-Cats
With over thousands of sales, the Garfeur Automatic Cat Feeders was the best received out of all the feeders we reviewed. It also had the least amount of quality or after-care complaints from its users. More than 80% people on Amazon give this product a 5* rating. Maybe you will too.
Factors to Consider When Buying an Automatic Cat Feeder for Multiple Cats
When choosing the best automatic cat feeder for multiple cats, there are several important factors to consider. Here are some key aspects to keep in mind:
Feeding Capacity: Look for a cat feeder that can accommodate the number of cats you have. Some feeders have multiple compartments or separate trays to cater to multiple cats, while others have larger food reservoirs with portion control features.

Portion Control and Meal Customization: Opt for a feeder that allows you to set individual portion sizes for each cat. This feature is especially crucial if your cats have different dietary needs or if you want to manage their weight. The ability to customize meal times and portion sizes ensures that each cat receives their appropriate share.

Durability and Ease of Cleaning: Consider the feeder's construction and materials. Look for sturdy and durable feeders that can withstand the antics of multiple cats. Additionally, choose a feeder that is easy to disassemble and clean, as hygiene is essential to maintain your cats' health.

Programmable Schedule and Dispensing Options: Ensure that the cat feeder provides flexible programming options to accommodate the feeding schedules of your cats. Some feeders allow you to set multiple feeding times throughout the day, while others offer different dispensing options like slow feeding or scheduled portions.

Power Source and Backup: Check the power source requirements of the automatic cat feeder. Some models operate on batteries, while others need a power outlet. Additionally, consider feeders that have backup power options to prevent any disruptions in case of power outages.

Noise and Feeding Mechanism: Cats can be sensitive to noise, so choose a feeder that operates quietly. Look for models with gentle dispensing mechanisms to avoid startling or scaring your cats during mealtime.

Additional Features: Some cat feeders come with additional features like voice recording capabilities, built-in cameras, or smartphone connectivity, allowing you to monitor your cats' feeding habits and interact with them remotely. Consider these features based on your preferences and requirements.
By carefully considering these factors, you can find the best automatic cat feeder for multiple cats that meets both your cats' needs and your lifestyle. Remember, investing in a high-quality feeder can greatly simplify the feeding process, enhance your cats' well-being, and bring peace of mind to you as a pet owner.
Pros
Dual-power backup (USB-C charging + Batteries)

Can record your voice (upto 10 seconds) to play during a meal call (to notify your cat).

Uses stainless bowls which are easy to clean.

Keeps food fresh within the sealed reservoir.

Positively received by customers. No quality issues.
Cons
Food is dispensed based on a rotor system, so the bowl closer to the rotor (the right bowl) gets more food. Divider needs to be adjusted a bit to ensure equal distribution.

Must be programmed using the buttons. No app.

Introducing the PETLIBRO Automatic Cat Feeder, designed to cater to the needs of two cats. With its adjustable meal splitter, you can ensure that food is distributed evenly, preventing any conflicts during mealtime.
The feeder's innovative features, such as the desiccant bag, sealing strip, and patented rotor, lock in freshness, keeping the food crunchy and delicious. Setting up and programming the feeder is a breeze with the easy-to-use tilt LED panel, allowing you to schedule up to 6 meals per day with 50 portions per meal.
Stay connected with your pets through the personalized meal call feature, and rest assured with the dual power supply, including a battery backup system. Keep your cats satisfied and well-fed with the PETLIBRO Automatic Cat Feeder.
Pros
Can be remotely controlled via WiFi with the mobile app.

Can be connected and controlled via Alexa.

Sends a low-food notification to your Phone.

Can automatically re-order food from Amazon when food is low.

Has a privacy panel (divider) which can be attached between the bowls (to separate the cats).
Cons
The bowls can be pushed around easily (lack of grip).

Expensive.

Introducing the all-in-one solution for feeding multiple pets: the PetSafe Automatic Pet Feeder. This innovative feeder includes a meal splitter, optional privacy panel, and an extra stainless-steel bowl, ensuring that each of your two pets can enjoy their own meal at dinner time. With the ability to divide meals equally, you can adjust the feeder to dispense the perfect portion for each pet.
For added convenience, use your Amazon Echo device to ask Alexa to feed your pets a snack, hands-free, from anywhere in your home. The feeder also offers smartphone notifications, Amazon Dash Replenishment, and is top-rack dishwasher safe. Monitor and customize your pets' meals effortlessly with the My PetSafe app.
Divider can be removed, and repurposed for a single cat. There is also a specially made divider (brought separately) which support 3 cats.
Pros
Long battery life.

It's unique design puts some distance between the two bowls (good for preventing fights between cats over food).

Has a feeder bowl option (for the same price) which prevents fast-eating (which can cause vomiting cats).

Voice recording feature (10s) for meal calls.
Cons
Capacity is a bit less compared to other models.

Must be programmed using the buttons. No app.
Introducing the HoneyGuaridan Dual Cat Automatic Feeder, a game-changer for households with multiple pets. This innovative feeder ensures equal distribution of pet food on both sides, eliminating the problem of uneven feeding. With its dual feeding design, your pets can enjoy a quiet and stress-free mealtime without any competition.
The rubber seal and desiccant bag keep the food fresh by preventing oxidation and odor leakage. The sealed revolving door feature closes the feeding port after each meal, keeping ants and insects at bay. Setting up a feeding schedule is a breeze, and the removable parts make cleaning a breeze.
With dual power supply options and a battery life of up to 200 days, you can rest assured that your pets will be well-fed, even during power outages.
Pros
Can be controlled via Mobile app remotely.

Voice recording feature (10s) for meal calls.

Good price for a 2-Cat + WiFi enabled feeder.

Large capacity.
Introducing the WiFi Automatic Cat Feeder, a convenient solution for feeding your furry companions. This advanced feeder allows you to control and schedule feedings remotely using the accompanying app.
With just a few taps on your smartphone, you can set a feeding schedule and monitor the feeding log to ensure everything is on track. The 6L visible hopper can hold up to 2.2KG of pet food, and the two-way food dispenser can split meals evenly between two bowls. The feeder also features a desiccant bag and sealing strip to maintain freshness, a removable stainless steel bowl for easy cleaning, and a personalized meal call function.
With dual power supply options, including a DC adapter and batteries, your pets will never miss a meal, even during power outages.
Pros
Memory feature retains settings and meal times during power outages.

Very positively received by customers.

Can be fully disassembled for cleaning purposes.

Includes 10s voice recording feature.
Cons
Must be programmed using the buttons. No app.
Introducing the Garfeur Automatic Pet Feeder, the ultimate solution for hassle-free and customized feeding for your beloved pets. Set up to 6 meals per day and customize portion sizes with 1-48 portions per meal. The generous food storage capacity of 5L/21 Cups can last for weeks, thanks to the 2023 Upgrade Memory Function that retains your settings, even during power outages.
Say goodbye to food clogging with Garfeur's patented internal food dispensing structure, and prevent your pets from tampering with controls using the screen lock button.
Enjoy a healthy and convenient life with removable and easy-to-clean components, including the food hopper, food tray, tank base, and two stainless steel bowls. Keep food fresh with the desiccant bag and secure lock lid.
Rest easy with dual power supply options, including a 5V DC adapter and battery backup (batteries not included), ensuring uninterrupted feeding schedules and holiday flexibility.
Pros
Comes with a 10 seconds voice recorder feature.

Elevated base helps cats eat more
comfortably, especially senior or impaired cats.

Well priced.
Cons
Must be programmed using the buttons. No app.
Introducing the Espelho Upgrade Cat Feeder Automatic, the perfect solution for feeding multiple pets simultaneously. This cat feeder comes with a 2-way splitter and double stainless steel food bowls, ensuring your pets are fed on time without any conflicts.
It offers adjustable height options with short and tall risers, promoting healthy eating postures and aiding digestion. The LCD screen allows for flexible meal scheduling, with up to 4 meals per day and 9 portions per meal.
The feeder also features 10-second personalized recordings to enhance the bond with your pet. With a 5L capacity, it can store enough food for 20-35 days, and the dual power supply ensures uninterrupted feeding even during power outages.
Pros
Transparent slit allows you to observe the water level.
Moving water encourages cats to drink.
Supports multiple cats drinking at once (upto 4)
2-year warranty.
Cons
Needs cleaning every 2 weeks for hygiene purposes, and long life.
This post wouldn't be complete without a recommendation for a water feeder for your cats. Introducing the Veken Pet Fountain, the ideal solution to keep your furry friends hydrated and healthy.
With its large 95oz capacity, this water dispenser is perfect for small to medium dog breeds and all cats. Made of high-quality food-grade materials, it is BPA free, durable, and easy to clean. The water-level window and LED light allow you to monitor your pets' water intake in real time.
Choose between the flower waterfall mode or the gentle fountain mode to entice your pets to drink more frequently. With a 4-stage filtration system and an ultra-quiet pump, this fountain ensures fresh and clean water for your beloved companions.
Conclusion
In conclusion, after carefully reviewing and considering various automatic cat feeders for multiple cats, we have identified three standout products that we highly recommend.
Firstly, the PetSafe Automatic Pet Feeder offers exceptional quality and features. Although it comes with a higher price tag, its advanced functionality and the ability to split meals between two pets make it an excellent choice for multi-cat households.
The Garfeur Automatic Cat Feeders have received overwhelmingly positive reviews from thousands of satisfied customers. With minimal complaints about quality or after-care, this feeder has proven to be reliable and well-loved by cat owners. Its high ratings on platforms like Amazon further solidify its status as a top contender.
Lastly, the HoneyGuaridan Automatic Cat Feeder (WiFi-Enabled) stands out as the best overall option. It strikes the perfect balance between quality, affordability, and customer satisfaction. With its modern features and positive feedback from users, it offers an excellent solution for feeding multiple cats.
Ultimately, the choice of the best automatic cat feeder for multiple cats depends on your specific needs, preferences, and budget. Whether you prioritize top-quality features, outstanding customer reviews, or a well-rounded package, these recommended products provide excellent options to simplify and enhance your cats' feeding experience.