Best Cat Beds for Multiple Cats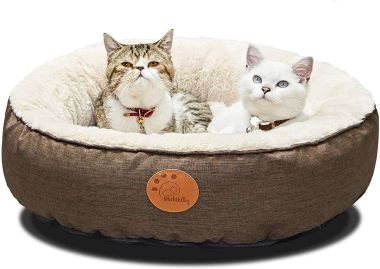 Choosing the right cat bed for a single cat can be a challenge, but when there are multiple cats in the picture, it becomes even more crucial. Cats, known for their independent nature, also seek security and warmth, especially when they share their living space with fellow felines.
In this guide, we will explore the best cat beds for multiple cats. We understand the unique dynamics at play, the need for space, comfort, and a sense of security that these beds must provide. Whether you have two, three, or even more cats, finding the perfect cat bed can make a significant difference in their daily lives. We'll explore various factors to consider, types of cat beds available, and provide you with comprehensive reviews, guiding you toward the best choices for your furry companions.
Featured Products
best OVERALL
Bedsure Cat Tower  for Indoor Cats
Our best pick in this article, based on overall customer feedback, various size options, price, maintenance cost, and product quality.
Factors to Consider
Before we recommend any products, here is a list of common criteria used to evaluate cat beds, so that you can make an informed decision. 
Size and Space: Creating Room for Companionship
When it comes to cat beds for multiple cats, size matters. Cats love to stretch, snuggle, and curl up, often in the same space. A bed that allows each cat to have their spot without feeling cramped is essential. Measure the available space in the room where the bed will be placed.
Consider not just the bed's dimensions, but also the space around it, allowing cats to enter and exit comfortably. Beds with multiple compartments or separate sleeping areas are excellent choices, ensuring each cat has its private space while being close to their companions.
Comfort and Material: The Cozy Retreat
Cats are connoisseurs of comfort. Soft, plush materials provide the cozy haven they seek. Look for cat beds made from high-quality, durable fabrics that are gentle on their fur. Orthopedic cat beds, with memory foam or supportive filling, are excellent choices, especially for senior cats or those with joint issues (e.g. arthritis). Cats often knead and paw at their beds before settling in.
Opt for materials that can withstand this natural behavior, ensuring the bed remains inviting and intact over time. Additionally, consider beds with raised edges or hoods, providing a sense of security, which is especially comforting for nervous or shy cats.
Washability and Maintenance: Ensuring Cleanliness
Keeping your cats' environment clean is crucial for their health. Choose cat beds that are easy to clean and maintain. Machine-washable beds simplify the cleaning process, allowing you to keep the bed fresh and odor-free. Removable, washable covers or entire machine-washable beds are ideal options. Cats can be particular about scents; a regularly cleaned bed ensures they find their resting place inviting each time.
Number of Cats: Tailoring Beds to the Feline Ensemble
Understanding the dynamics between your cats is essential. Some cats enjoy snuggling together, while others prefer their space. Consider the social structure within your feline group. For cats that love to cuddle, large, communal beds or beds with open designs are excellent choices.
Alternatively, for cats that prefer their space, individual beds placed close together create a sense of togetherness without compromising on personal space. Observing your cats' behavior can provide valuable insights into the type of bed configuration that suits their needs best. 
1. Double Cat Beds for Indoor Cats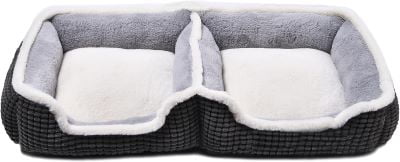 18.5″L x 36″W x 6.5″Th.
Made from Polyester.
4.41 Pounds.
Pros
Divider between beds
Cheap single-bed variants exist (which can placed side-by-side)
Washable
Anti-slip
Very fluffy and soft
Cons
Suitable for exactly two cats.  No more, no less.
Introducing the "Double Cat Beds for Indoor Cats," a perfect haven for your feline companions. This unique conjoined pet bed is designed for the coziest of bonding moments. It keeps your cats close enough to enjoy each other's company, while the small division between the beds allows them to have a sense of their own personal space.
Crafted with high-quality materials, the inner sleeping area features plush, soft fabric that cradles your pets in warmth and comfort. The outer face, made from luxurious Corn granulated plush fabric, lends an air of elegance to your space.
2. K&H Heated Multi-Kitty A-Frame Outdoor Cat House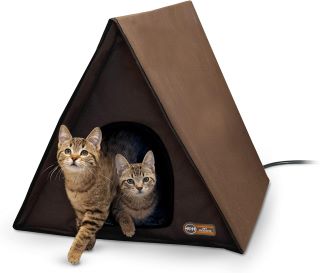 20.5″D x 35″W x 20″H
Made from Polyester
Chocolate Color
Pros
Great for the cold winters due to the heated frame.
Quite spacious, and can even fit large dogs. 
Great for Feral/Outdoor Cats.
Energy saving design, which provides maximum heating only when your pet is actually inside.
Comes with things like rain flaps for outdoor usage.
Cons
A bit pricey (but then again, the other beds don't have heating).
Introducing the K&H Heated Multi-Kitty A-Frame Outdoor Cat House, an exceptional haven for multiple outdoor and community cats. With dimensions of 35″ x 20.5″ x 20″, this weather-resistant cat shelter is designed to protect your feline friends from freezing cold temperatures. The 40-watt MET Safety Listed heated cat bed inside the Kitty House ensures that even in sub-zero conditions, your cats remain comfortably warm.
Safety is paramount with this outdoor cat house, boasting two exits for quick escapes from potential predators and removable clear door flaps to shield against harsh elements. It's a versatile choice, suitable for cats that prefer garages, porches, barns, or colder areas within your home, providing a cozy cat cave with a warming pad inside.
3. Kitty City –  Large Stackable Cat Condo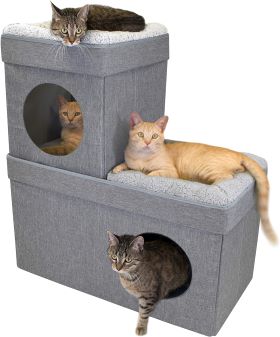 17″D x 32.5″W x 36″H
Made from Polyester
18.7 Pounds
Introducing the Kitty City – Large Stackable Cat Condo, the ultimate haven for multiple feline companions. Featuring an entire fort, this cat condo is suitable for up to 4 cats. Crafted with sturdy fabric walls that are effortlessly set up in moments and conveniently collapse for easy storage, it's the ideal space-saving solution for cat owners.
The Kitty City Cat Condo comes complete with four plush, machine-washable polyester pillows, ensuring that your cats always have a clean and cozy resting place.
Pros
Can be disassembled.
Pillows are removable, and can be machine washed.
Can accommodate many cats. 
Well received by many cat and cat owners. 
Cons
This product sacrifices some structural integrity in exchange for its collapsible and foldable nature.
4. HACHIKITTY Washable Donut Cat Bed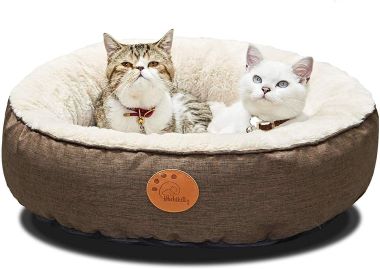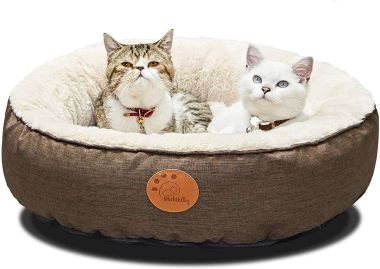 24″L x 24″W x 7″Th
Material: Cotton
Multiple variants and colors available.
Pros
Made from HYPOALLERGENIC material (good for cats with allergies)
Different size variants available. 
Reasonable price.
Introducing the HACHIKITTY Washable Donut Cat Bed – the ultimate solution for multiple-cat households seeking cozy, fuss-free comfort. This cat bed has been thoughtfully improved based on valuable customer feedback. Gone are the removable covers and assembly concerns, making it a breeze to maintain. Crafted from 300D waterproof oxford fabric and plush faux fur, this bed is a cinch to machine wash and retains its quality.
Designed for feline snugglers, it offers a plush retreat for your cats, providing head and neck support with its raised pillow-like sides. Available in two sizes (18 inches for small cats and 24 inches for larger feline friends), this hypoallergenic cat cushion bed creates a warm, inviting space. With a non-slip bottom and easy maintenance tips, this cat bed ensures your kitties have a clean, comfortable sanctuary. 
5. CATTASAURUS Peekaboo Cat Cave for Multiple Cats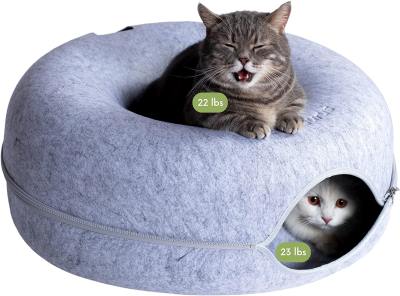 24″D x 24″W x 6″H
Made from Scratch-Resistant Felt Material
Various color options available.
Pros
Designed to accommodate cats of all sizes and weights
Cave-based design which is very popular with cats.
Different colors available.
Can hold multiple cats (at least 3)
Cons
This product is actually quite large, so takes up a good chunk of space (A possible issue for small apartments)
Introducing the CATTASAURUS Peekaboo Cat Cave, a versatile and eco-conscious haven for multiple cats. Crafted from durable, non-toxic, and odor-resistant materials, this cat tunnel bed is designed to maintain its shape and withstand regular use. Its spacious and roomy interior accommodates larger cats, up to 30lbs, making it an ideal choice for breeds like Maine Coons, Ragdolls, and British Shorthairs. Small dogs also find comfort in this versatile retreat.
The Peekaboo Cat Cave is not just a bed; it's an interactive playground. With a small peephole window, it encourages engaging interactions between your pets and their owners, fostering a stronger bond. Cleaning is a breeze, thanks to the detachable tunnel bed, ensuring a fresh and hygienic environment.
6. K&H Pet Products EZ Mount Window Sill Cat Bed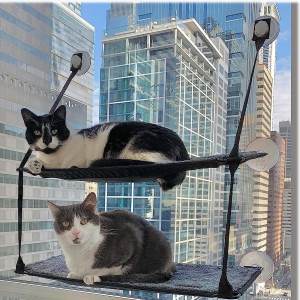 Made from Polyester
23″L x 12″W x 27″H (double stack)
Window-mounted with suction cups.
Pros
Multiple variants available, with different numbers of levels.
Washable
Space saving (no need for floor space)
Positive reviews from customers about stability (even with heavy cats)
Cons
Suction-cup design can cause issues in extreme cases (e.g. suction failing on frosted windows). 
With its innovative EZ Mount, this cat hammock effortlessly attaches to interior glass patio doors and windows, providing your cats with a cozy, sunlit spot to relax and observe the world from on high. Crafted for strength and durability, this sturdy cat perch can comfortably accommodate multiple cats, thanks to its robust steel frame and industrial-strength EZ Mount suction cups, capable of holding up to 50 pounds.
Each level of this functional cat window perch features a super-soft fleece sleeping area, measuring a generous 23 inches by 12 inches. Holes in each level of this perch allow your cats to interact and play with each other.
7. Bedsure Cat Tower  for Indoor Cats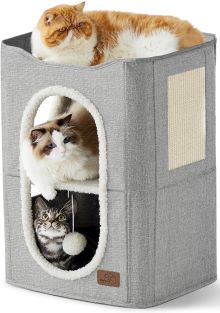 18″D x 14″W x 23″H
Made from Polyester
Multiple colors available.
Built-in cat scratcher
Pros
Multiple openings, allowing for fun play between cats on different levels.
High quality and certified materials used.
Comes with a scratching board + hanging toy.
Suitable for up to 3 cats (and well priced accordingly)
Introducing the Bedsure Cat Tower for Indoor Cats – a delightful retreat for your feline friends. This three-level cat house provides not one, but three spacious hideaways for your cats to curl up and relax in. The upper platform doubles as a perfect perch for some me-time or window-watching. What sets it apart are the peek-a-boo openings and a fluffy toy ball that add extra excitement to your cats' playtime.
Crafted with pet-safe materials, this cat tower is built with CARB Certified high-strength medium density fiberboard and plush, gentle lambswool fabric for ultimate comfort. It also features a sturdy sisal scratching board, ensuring hours of entertainment for your cats.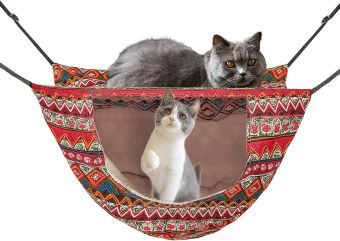 18.5″L x 14.96″W x 10.6″Th
Made from Cotton
Tested to hold animals upto 22 pounds.
(Cage not included)
Pros
Cheap.
Machine Washable.
Cage provides a sense of security and comfort.
Cons
Requires a cage, or appropriate structure (e.g. a table) to be setup.
Fabric is a little thin, which makes it susceptible to being torn by your cat. This could be an issue if your cat is known to destroy things (e.g. pica condition)
Introducing the ONENIN Cat Cage Hammock, a versatile and cozy haven designed with multiple cats in mind. This double-layer hammock can hold up to 22lb per level, offering ample space for your feline friends to play and rest simultaneously.
Crafted with high-quality materials, it's tailored for all seasons. The upper layer, made of cotton and linen, keeps cats cool during summer, while the lower faux lambswool layer provides unmatched warmth and comfort in winter. Your pets will love the soft, irritation-free surface, akin to the blankets we use on our own beds.
9. Bedsure Cat Cave for Indoor Cat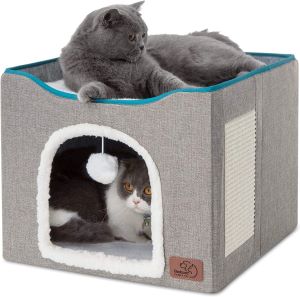 16.5″D x 16.5″W x 13″H
Made from Polyester (roof made from cardboard)
Foldable design.
Pros
Comes with additional entertainment for your cats.
Quality and highly certified material. 
Good price.
Foldable.
Cons
Due to its foldable nature, Top bunk is a bit flimsy and not suitable for heavy cats (12+ pounds).
Introducing the Bedsure Cat Cave for Indoor Cats, the perfect addition to multi-cat households. This cat hideout offers both privacy and comfort, featuring an enclosed bottom area for peaceful slumber and a spacious upper platform for lounging and window-gazing. Measuring a generous 16.5 x 16.5 x 13″ in the bottom compartment, it accommodates cats of all ages, ensuring a cozy den for your feline friends.
Crafted from pet-friendly MDF materials with CARB Certification and soft lambswool fabric, this cat house is both safe and stylish. It includes a durable sisal scratching board located on the side, and a plush hanging ball to keep your cat engaged and content. Sturdy yet lightweight, the MDF construction is designed to last.
10. Feandrea Cat Tree, 61-Inch Cat Tower for Indoor Cats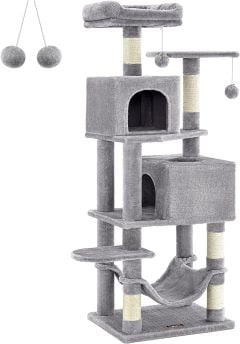 19.3″L x 15.7″W x 61″H
Materials used: Particleboard, Plush, and Sisal
Various sizes available.
Can seat upto 5 cats in one go.
Pros
Can easily support 5 cats at the same time!
Built-in scratching posts.
Comes in different sizes. 
Cons
The larger variants (for big cats) are a little expensive. 
Introducing the Feandrea Cat Tree, a 61-inch Cat Tower designed with the well-being of your feline companions in mind. This cat tree is a must-have for multi-cat households, offering two luxurious top perches and two spacious cat caves, creating a haven of comfort and observation spots for your cats. With multiple levels, it encourages cats to exercise their natural instincts and explore the vertical space, keeping them engaged and satisfied.
For added entertainment, two hanging pom poms with bells are included, encouraging play and exercise. Plus, it's incredibly sturdy and secure, with an anti-tip kit ensuring the safety of up to five cats. Keeping it clean is easy too, with just a lint roller or vacuum cleaner to quickly rid it of fur, dirt, and crumbs. 
Conclusion
And so concludes our article on the best cat beds for multiple cats. We hope this comprehensive guide has provided you with valuable insights and recommendations to make an informed decision when choosing a cat bed for your multi-feline household.