Best Heated Cat Beds for Winter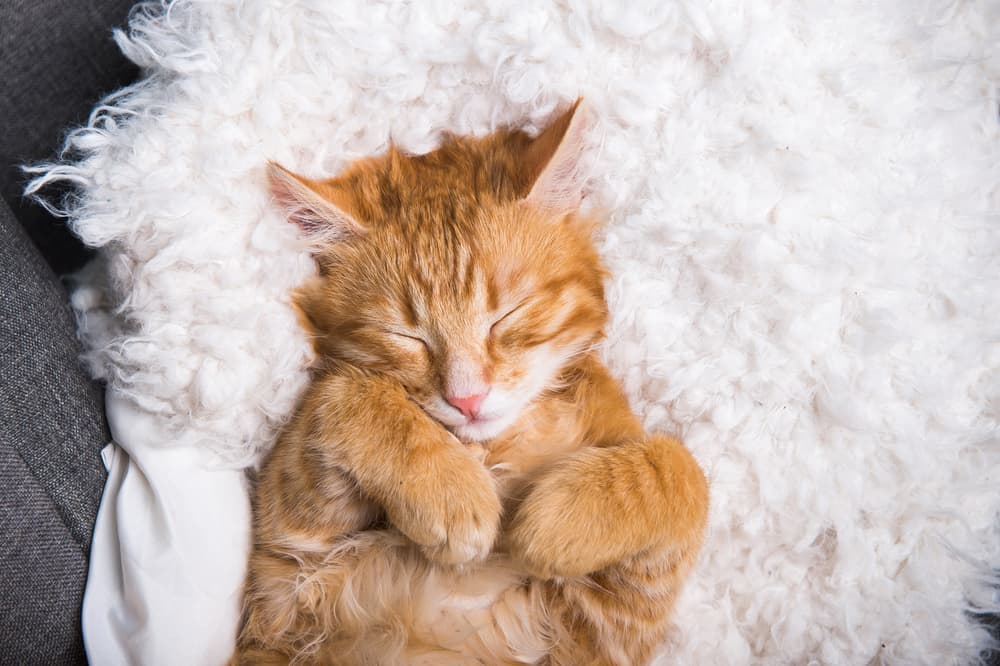 Cats are natural heat seekers and as winter's chill approaches it's important to keep them warm. That's where heated cat beds come in – a smart solution to keep your cat cozy all winter long. Cats adore warm spots, and a heated bed can keep them comfy and happy. Many cat owners buy heated cat beds for winter not only to provide their pets with warmth but also so that their seniors cat or cats with arthritis can remain comfortable during the harsh cold weather.
This article will give you an in-depth buying guide as well as our personal product preferences from Amazon that will help you make the right purchasing decision for your cat and make sure that you spend your money buying the right heated cat bed for your pet.


What are Heated Cat Beds?
Heated cat beds are specialized pet accessories designed to provide warmth, comfort, and security to our pet cats, particularly during the colder months. These beds incorporate heating elements or self-warming technology that generates a gentle and controlled amount of heat, mimicking the coziness of a sunny spot or a warm lap.
The primary goal of a heated cat bed is to create a soothing environment that supports a cat's natural inclination for seeking warmth. These beds often come in various shapes, sizes, and styles, catering to different preferences and needs. Some heated beds also offer orthopedic benefits, which can be especially advantageous for senior cats or those with joint issues.
Overall, heated cat beds offer more than just physical warmth; they provide a secure and inviting space where cats can curl up, relax, and enjoy their own haven of comfort throughout the colder seasons.
Why Your Cat Needs Heated Cat Beds For Winter?
Heated cat beds, offer a lot more than mere luxury – they cater to an intrinsic requirement of our pet cats. With body temperatures higher than ours, cats can find cold weather unsettling. Heated cat beds step in to fill this gap, providing the warmth that cats instinctively seek.
Here are the key advantages of introducing a heated cat bed for winter to your pet:
Temperature Comfort: Cats have a higher body temperature than humans, making the chill uncomfortable for them.
Natural Instincts: Heated cat beds align with a cat's natural inclination to seek warmth, promoting their comfort and overall well-being.
Vulnerable Cats: Kittens, seniors, and those with health conditions are more susceptible to the cold; heated beds offer targeted warmth.
Health Benefits: The warmth helps alleviate sore muscles and joints, making these beds especially valuable for older or arthritic cats.
Emotional Security: Heated beds establish a cozy sanctuary, nurturing a sense of security and relaxation in a snug setting.
Factors to Consider Before Buying Heated Cat Beds For Winter:
When selecting a heated cat bed for the winter season, it's essential to take several factors into account to ensure the utmost comfort and safety for your feline friend.
Here are key considerations to keep in mind before making your purchase:
1. Size and Shape: Choose a heated bed that matches your cat's size and preferred sleeping posture. Some cats like to stretch out, while others prefer curling up.
2. Heating Mechanism: Look for beds with adjustable temperature settings to avoid overheating. Self-regulating heating pads are excellent options as they adjust based on your cat's body heat.
3. Safety Features: Prioritize beds with safety features like automatic shut-off timers to prevent prolonged exposure to heat.
4. Material and Cleaning: Opt for beds with removable and machine-washable covers to maintain hygiene and freshness.
5. Energy Efficiency: Consider beds with energy-efficient heating elements to keep your electricity bill in check.
6. Your Cat's Preferences: If your cat is finicky, observe its preferences for sleeping spots – high, low, enclosed, or open – to choose a bed that suits its taste.
By carefully evaluating these factors, you can ensure a heated cat bed that not only offers warmth but also addresses your pet's individual needs, ensuring a cozy and safe haven throughout the winter months.


Quick Overview for the Best Heated Cat Beds For Winter
best quality
The Dream Pod is the best quality bed that you can buy for your cat. It has a unique design along with an automatic heater that is bound to be keep your cat cozy and comfy through winters.
best for price
The Toozey Cat Heating Pad is perfect for its price, with a manual heater that you can configure based on your own preference for your cat. It's best for cold weathers especially for those on a budget.
Best overall
The best overall cat heated bed is the thermo pet cave by K&H. It features a 2-in-1 design and has an automatic heater perfect to keep your cat warm.
Our Top Picks for Heated Cat Beds For Winter
Here are the some of the best heated cat beds for winter that you can buy at amazon along with a detailed description of which product may suit your cat best:
1. K&H Dream Pod Heated Cat Bed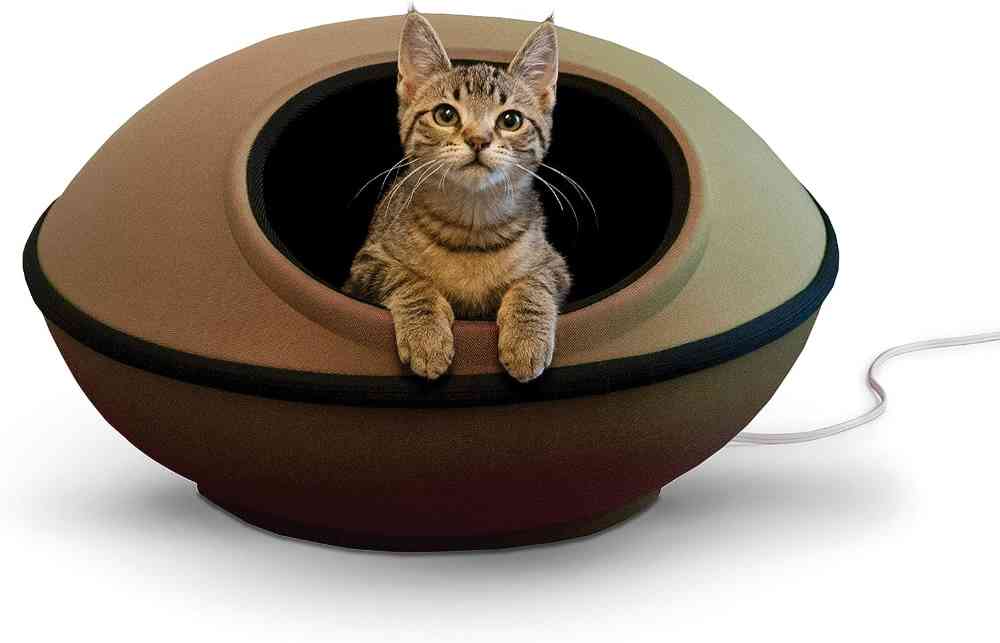 Indoor heated cat cave
Suitable for small and big cats
Removable heater
Pros
4-watt heating pod that is perfect for cats of all ages and sizes.

Easy open zipper that lets you see the plush lycra interior.

Unique zip together bowl design that surrounds your pet with comfort and privacy.
Cons
Only heats up the bed to a lukewarm temperature.
The K&H Dream Pod Heated Cat Bed – a haven of warmth and comfort for your pet cat. Designed with over two decades of expertise from K&H, this heated pet bed redefines coziness. Crafted for all types of cats, it boasts a unique zip-together bowl design that offers privacy and comfort as your pet snoozes.
The low-wattage heating mechanism provides gentle warmth, ensuring ultimate comfort during colder months. For year-round versatility, the removable heater allows you to use it even when the temperature rises.
The Dream Pod is as practical as it is cozy. The cushion is easily removable for machine washing, ensuring your pet's space stays clean. Safety is paramount – certified by MET Labs and surpassing electrical safety standards, it's designed for indoor use with 110/120 volt electrical current.
The innovative heating system warms to maximum temperature when your pet is using the bed, ensuring optimal comfort. Trust in the K&H brand, with a 20-year history of creating quality pet products. Elevate your pet's relaxation with the K&H Dream Pod Heated Cat Bed.
2. K&H Thermo Lookout Heated Pod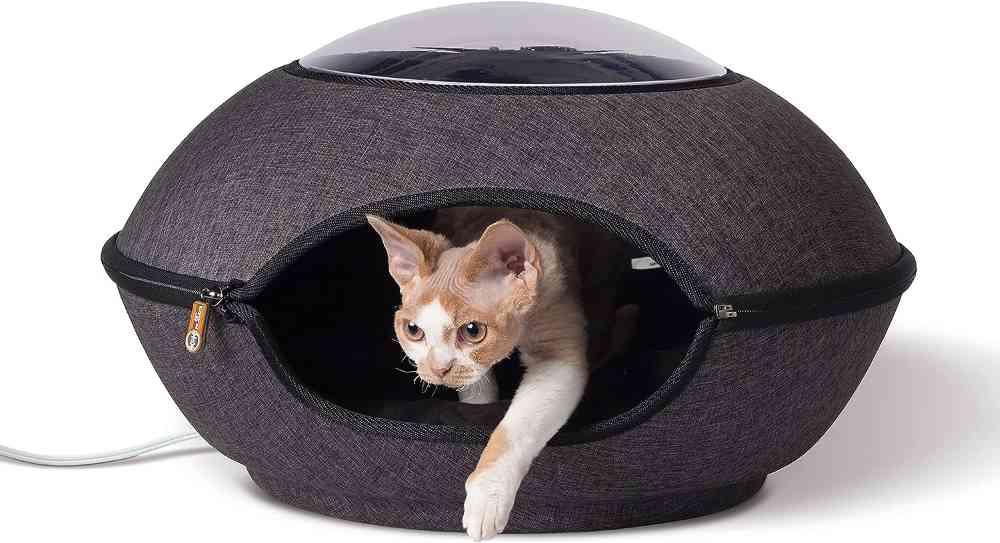 2 different color styles to choose from
Thermostatically controlled heater
Has a look out windows at the top
Pros
Low wattage heater provides slow heating for pet's comfort.

Cat Cave styled bed that ensures privacy for your pet.

Cushion can be removed for easy cleaning and washing.
Experience the pinnacle of comfort and innovation with the K&H Thermo Lookout Heated Pod – the ultimate heated cat bed that's redefining cozy hideaways. Crafted with a keen focus on your pet's comfort, this modern cat cave features a unique zip-together bowl design that cocoon your furry friend in comfort and privacy. What sets it apart is the ingenious window that lets your pet peek through, combining relaxation with curiosity.
This heated cat bed is a game-changer for all seasons. The low-wattage heater provides gentle warmth, offering year-round comfort, while the removable 4-watt heater ensures energy efficiency. Cleaning is a breeze with the removable cushion that's machine washable, maintaining your pet's favorite spot's hygiene.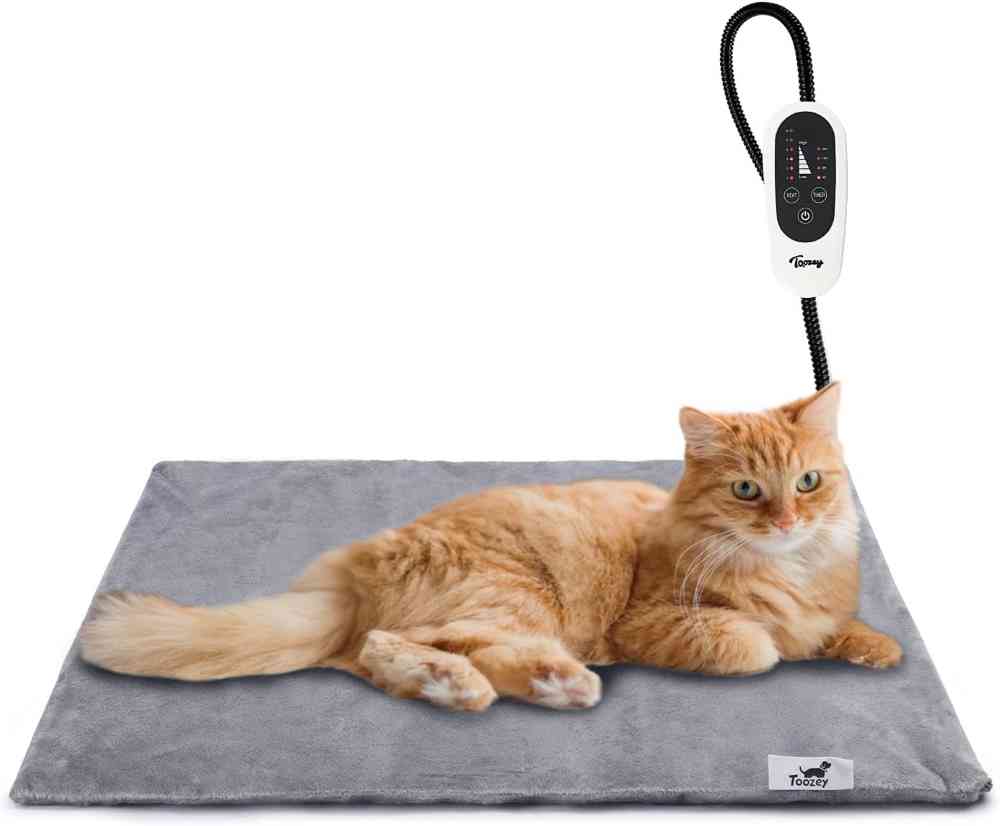 Available in 4 different sizes
LED controller for adjusting temperature
Auto turn off and timer function available
Pros
Provides you with the option of choosing between 6 different temperature settings.

High Quality wires that do not break even if chewed or scratched.

Ultra soft machine washable cover.

Perfect for pregnant cats, pets with arthritis or newborn pets requiring warmth.
Cons
Doesn't have an automatic heating option and has to be manually started.
The Toozey Cat Heating Pad is an oasis of warmth and security for your pet cat. Boasting an array of features, this electric heating pad is tailored for your pet's utmost comfort and safety.
With 6 adjustable temperature settings (86-131℉/30-55℃) controlled by an LED interface, you can tailor the heat to their liking. The built-in timer function, ranging from 4 to 24 hours, conserves energy and prevents overheating.
Safety is paramount, with a 7-layer protective structure and UL-certified heating wire to prevent burns, and a waterproof, flame-retardant PVC envelope. The dual-resistant chew-resistant cord ensures durability even for aggressive and rough playing cats.
It is an heating bed for newborns, pregnant pets, and older animals with joint pain as the ultra-soft, washable velvet cover guarantees coziness. The Toozey Cat Heating Pad is not just for winter – it's a year-round haven of comfort, designed by a brand trusted for its commitment to quality and innovation.

Comes in 2 different sizes
Completely noiseless
Extra warm fluffy fabric with thermal insulation
Pros
Doesn't require electricity or plug as it relies on self heating.

Completely noiseless, utterly soft and cozy to provide comfort to your pet.

Removable zipper so you can wash the cover whenever needed.
Cons
Not good for extremely cold weathers.
The Self Warming Cat Bed by Mora Pets is a haven of natural warmth and comfort for your cherished pet. This innovative bed harnesses self-heating technology that absorbs, retains, and reflects your pet's body heat, ensuring cozy warmth without the need for plugs or electricity.
It is crafted from ultra-soft, noiseless fluffy fabric, that guarantees ultimate comfort during naps. The removable zippered cover is machine washable and dryer friendly, ensuring hassle-free cleaning. Available in two sizes, this bed accommodates kittens, cats, puppies, dogs, and aging pets up to 25 pounds. With a focus on safety, this thermal pet bed is chemical-free and tested by KAKEN Test Center.
Whether on sofas, floors, or cat perches, it provides warmth wherever your pet rests. It is backed by a 1-year warranty, 30-day refund/return policy, and round-the-clock customer support.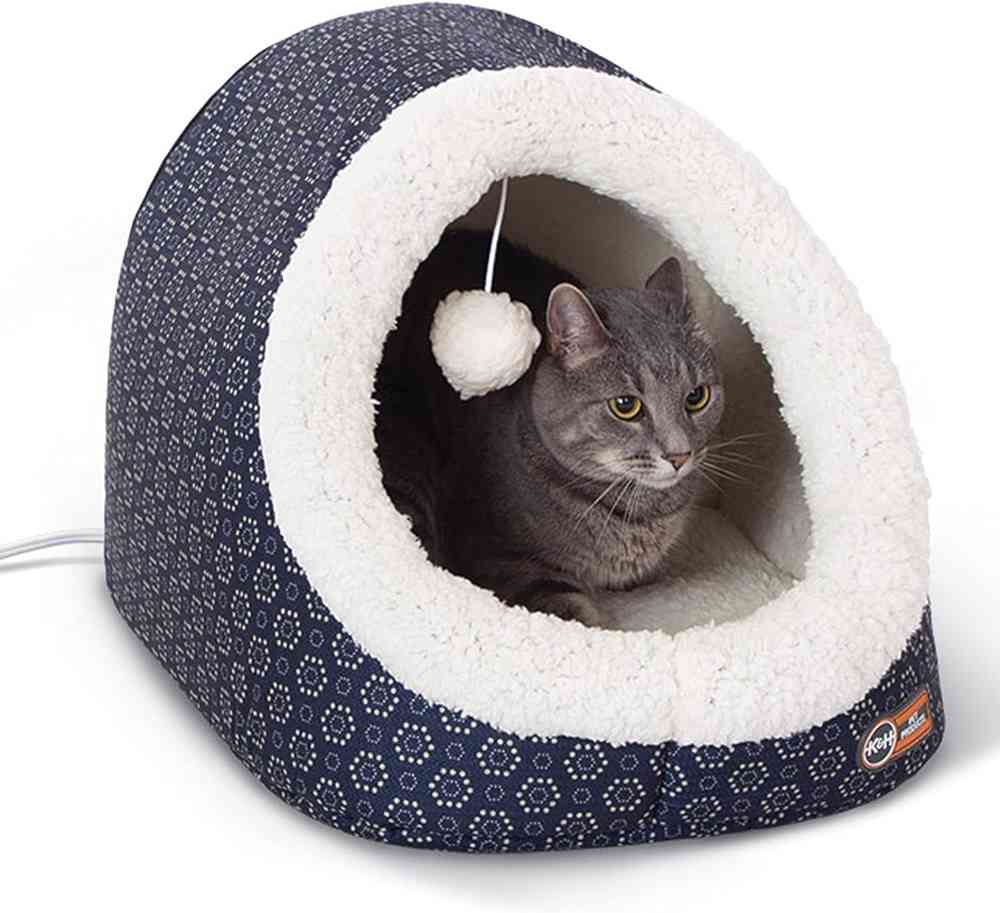 Fully soft fleeced interior design
2-in-1 design, cat cave and cat tunnel
Sturdy foam walls so it retains design
Includes a plush toy at the front
Pros
Contains a backdoor that be left unzipped for cats that prefer tunnels.

Removable 4-watt automatic heater that warms your pet's bed to its normal body temperature.

Plush toy keeps your cat entertained while its inside the hideout.
Cons
The bottom isn't as soft or cushioned as the other beds.
Another great bed by K&H is the Thermo-Pet Cave. It is your cat's cozy haven that's more than just a bed. This versatile cat accessory transforms effortlessly from a heated cat cave into a cat tunnel, all thanks to the easy-grip zipper at the back.
Crafted with a keen eye for comfort, the exterior boasts a soft, attractive polyester modern print, while the interior is an inviting, ultra-soft fleece haven. Sturdy foam walls maintain its shape, and the hanging plush cat toy adds an extra dose of entertainment.
Safety comes first – the Thermo-Pet Cave is designed with your pet's well-being in mind. Every aspect, from parts to product, is safety-certified, exceeding electrical standards. Machine washable, this cat bed ensures easy care (remove 4-watt MET listed heater first).
Designed by K&H with over 20 years of expertise, this premium cat bed is a testament to quality and innovation. Sized at 17″ x 15″ x 13″, it accommodates cats of all sizes and even small dogs. With both heated and unheated versions available, the K&H Thermo-Pet Cave is a luxurious retreat your pet will adore.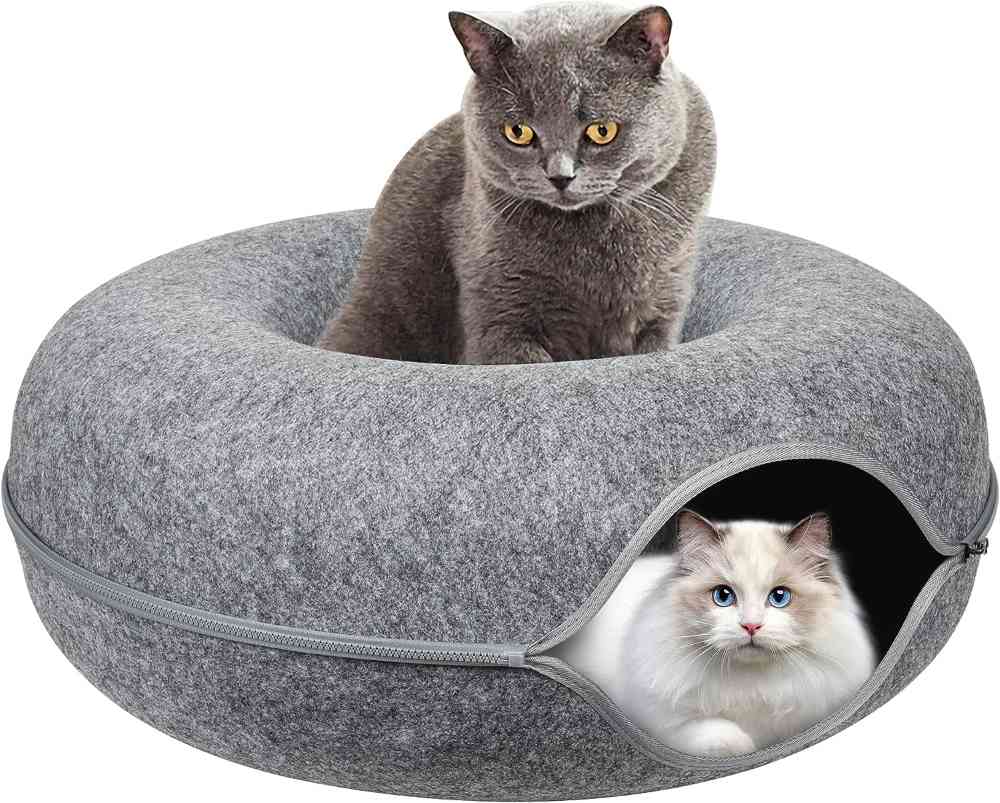 Comes in 2 sizes

2-in-1 cat tunnel and cat cave design

Hand made
Pros
Perfect for 2 cats at the same time.

Big enough to fit cats of all sizes and age.

Wear and scratch resistant with warmth retention, durability and robustness.
Cons
Doesn't have a heater therefore its not good for extremely cold environments.

The Cat Tunnel Bed is the ultimate fusion of comfort and play for your feline friend. This double-layer composite doughnut/round design caters to cats' natural instincts, offering a cozy hideaway and an enticing play space all in one.
From napping to hunting, chasing to resting, this tunnel bed allows for a range of activities. The spacious 24 x 24 x 11-inch dimensions, with a tunnel entrance height of 7 inches and interior space height of 11 inches, provide ample room for cats of all sizes, ensuring maximum comfort. Handmade from dense, flexible layered felt, this bed offers durability, warmth retention, and scratch resistance, suitable for year-round use.
The upgraded zipper design makes disassembly and cleaning a breeze, allowing for machine washing and low-heat drying. Versatile and stylish, the Cat Tunnel Bed seamlessly integrates into any interior while keeping your feline companion engaged and content.
7. HDLKRR Self Warming 2-in-1 Cat Bed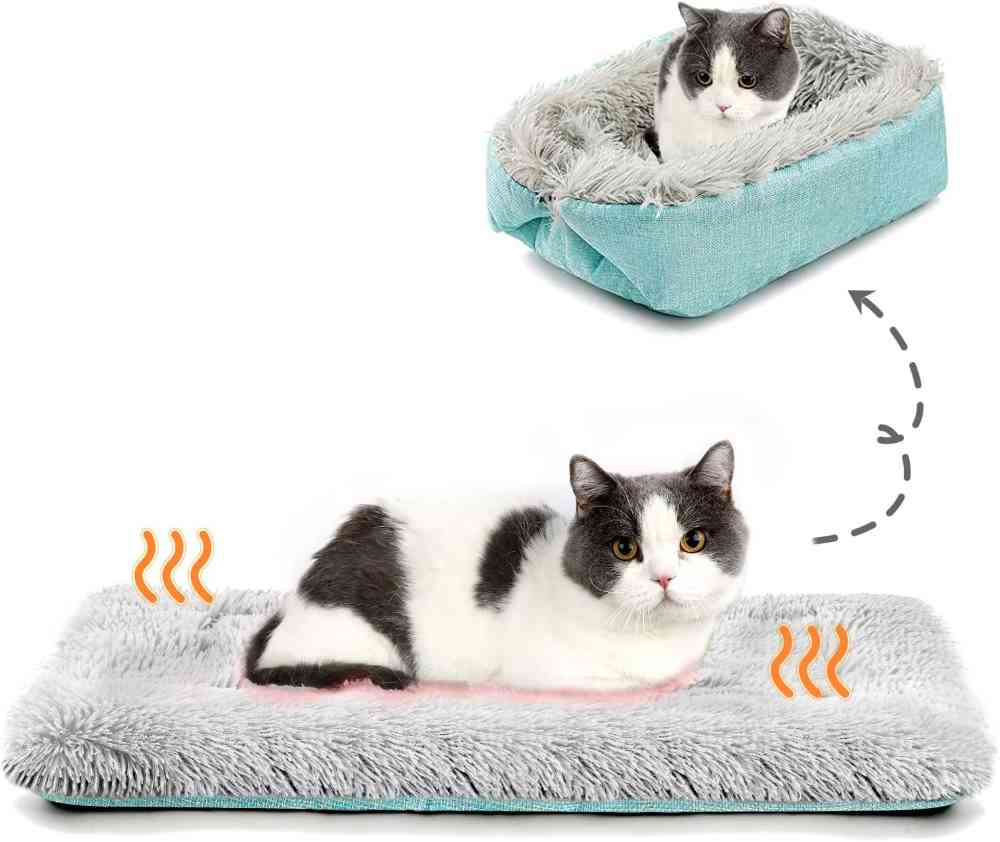 5 Different colors to choose from
2-in-1 Design
Made from linen fabric material
Pros
Stuffed with high quality plush that retains heat and keeps your pet comfortable.

Can be folded into a bed or kept flat as a soft surface.

Multi purpose as it can be used as a bed, blanket, crate pad, or a liner.
Cons
Doesn't have a heater therefore its not good for extremely cold environments.
Introducing the HDLKRR Self Warming 2-in-1 Cat Bed – the epitome of comfort and versatility for your pet cat. Crafted with high-quality plush, this pet calming bed ensures supreme coziness while the raised rim offers a sense of security and head & neck support during slumber.
With a 2-in-1 design, it transitions effortlessly between a flat cushion mode and a folded bed mode, providing optimal resting space for your pet in any season. The linen breathable bottom offers cool comfort in summer, and its waterproof feature makes cleaning a breeze.
Measuring 23.6×19.7 inches, it's perfect for small dogs, kittens, and cats under 20 lbs. This machine-washable bed guarantees a snug sleeping environment, while its lightweight design makes it ideal for travel. With HDLKRR, every cat's comfort is taken care of, ensuring they will cherish their own cozy haven.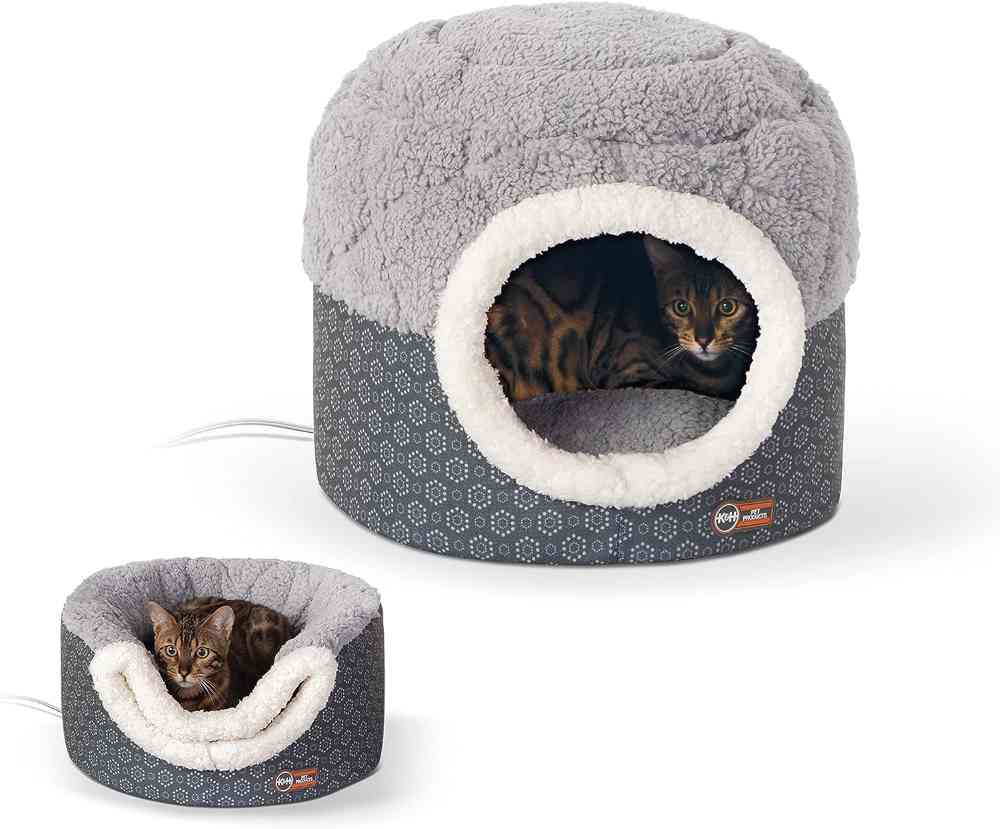 2-in-1 Cat cave and cuddler design
Removable heater for different seasons
Machine washable
Pros
Thermostatically controlled heater that adjusts to your cat's body temperature.

Easy to clean as the bed is machine washable.

The multipurpose design ensures that your can turn the cat cave into a cuddle nest whenever needed.
The K&H Nest Heated Cat Bed is a versatile and cozy haven designed with your pet's comfort and safety in mind. This heated cat bed offers the best of both worlds, featuring a collapsible roof that transforms it from a private cat cave into a cuddly nest.
The electric heater is thermostatically controlled to warm up only when your pet is inside, ensuring energy efficiency. The 4-watt heater is removable, making it suitable for all seasons.
Crafted for convenience, the K&H Thermo-Pet Nest is machine washable, catering to both cats and small dogs. With over 20 years of expertise, K&H prioritizes safety, certifying the entire product for peace of mind. Tested and certified by MET Labs, it exceeds USA/CA electrical safety standards.
Designed for ultimate comfort, this heated cat bed is not just a resting place, but a retreat that your pet will cherish. Trust in the brand that puts pets first – K&H – and enjoy the assurance of a one-year limited warranty. Warmth, safety, and quality come together in the K&H Nest Heated Cat Bed.
9. Winsterch Warm Covered Cat Bed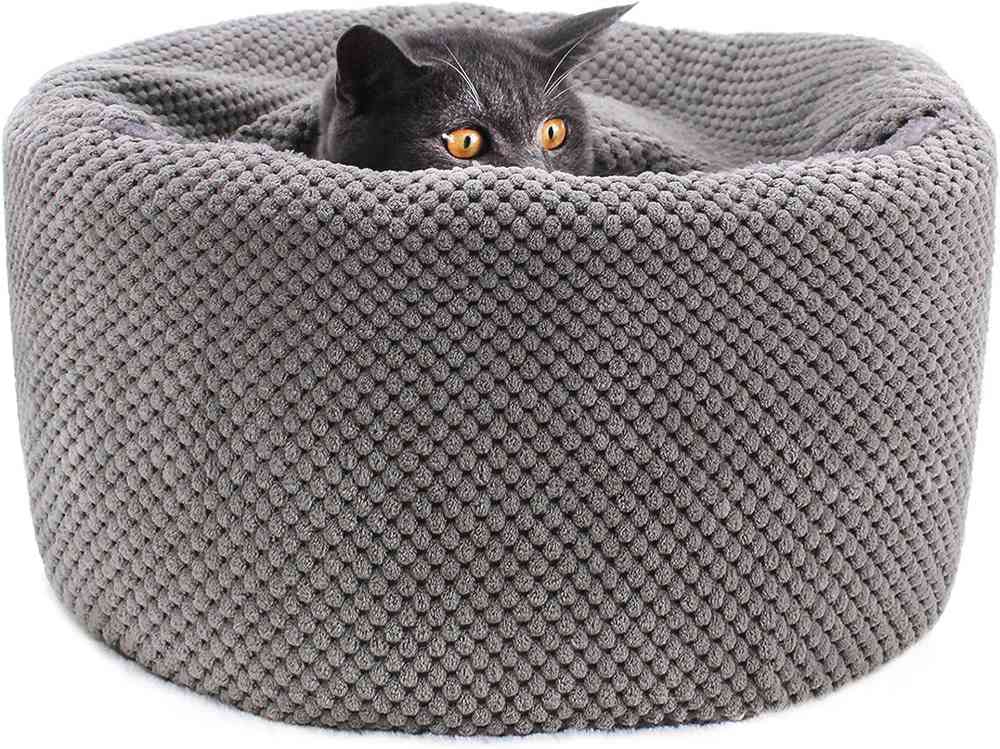 3 Different sizes to choose from
Removable cushion
Anti slip bottom
Pros
The half covered bed makes it extremely comfortable for cats to snuggle into.

Non slip bottom ensures that the bed doesn't move around too easily.

Thick fur inside the bed keeps your cat cozy and warm.
Cons
Not for cats that don't like to be covered.
The Winsterch Warm Covered Cat Bed – the epitome of comfort, style, and coziness for your beloved pet cat. Designed for indoor cats, this washable covered cat cave bed offers a private and warm haven for your kitty.
With a stylish round plush design, it's not just a bed but a relaxing space where your pet can unwind and snooze. The half-covered design mimics the cozy appeal of boxes and bags that cats love to explore, while the ultra-soft plush material provides a luxurious surface. This large round pet bed is suitable for cats or small pets up to 12 pounds, ensuring they can snuggle in ultimate comfort.
The double-use mat adds versatility, keeping your pet warm in winter and cool in summer. With a non-slip bottom design and polyester canvas bottom for added strength, this pet bed provides safety and stability. Elevate your pet's comfort with the Winsterch Warm Covered Cat Bed – a retreat that's as stylish as it is snug.
10. Pet Magasin Self Warming 4-in-1 Cat Bed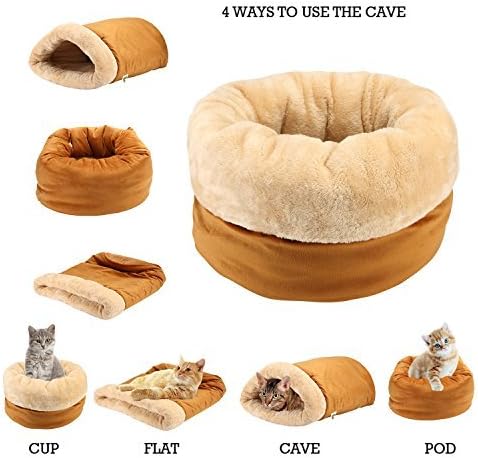 4-in-1 Design for all types of cats
Faux fur lining inside
High quality material used
Pros
The material is extremely soft inside making it super comfortable for cats.

The bed can be converted into a cave, pod, cup or kept flat.

Has a combination of fleece and foam that ensure comfort and warmth.
Cons
Doesn't have a heater so its not best for extremely cold weathers.
Introducing the Pet Magasin Self Warming 4-in-1 Cat Bed – the ultimate solution for accommodating your cat's ever-changing preferences. Cats are known for their variable tastes, and with this versatile cat cave, you can offer them the perfect resting spot, no matter their mood. Whether they want to curl up tight, stretch out flat, stay hidden, or lounge in the open, this cat bed has it covered.
Crafted with meticulous care, the bed features luxurious faux-fur lining, a cozy microfiber outer shell, and a plush padding of fleece and foam. These high-quality materials ensure your cat's utmost comfort. The 4-in-1 configuration offers options for a snug cave, a flat surface, a fur-lined cup, and a pod with microfiber lining. Easy to care for, it's recommended for hand washing and tumble drying.
The Pet Magasin brand prioritizes safety, quality, and value. Their dedication to pets and their owners is evident in every aspect of our products. Designed for style and comfort, this cat bed complements any decor while giving your cat a cozy spot to call their own. Elevate your pet's comfort with the Pet Magasin Self Warming 4-in-1 Cat Bed – because your cat deserves the best.


Frequently Asked Questions (FAQs)
Here are some of the most commonly asked questions for pet owners that are trying out a heated cat bed for their pet cats, hopefully this helps you clear away any further doubts you may have on this topic:
Q1: How do heated cat beds work?
Heated cat beds usually contain an integrated heating element or pad that warms up when plugged in. These beds are designed to reach a safe and comfortable temperature range that mimics a cat's body heat. The heating element is typically low wattage and energy-efficient.
Q2: Are heated cat beds safe for my pet?
Yes, reputable heated cat beds are designed with safety in mind. They have built-in features such as automatic shut-off and thermostatic controls to prevent overheating. Always choose beds from trusted brands and follow the manufacturer's guidelines for safe usage.
Q3: Are heated cat beds suitable for all cats?
Heated cat beds are generally suitable for most cats, especially those that enjoy warmth. However, consider your cat's age, health, and preferences. If your cat has any health conditions, consult with a veterinarian before using a heated bed.
Q4: How do I clean a heated cat bed?
Many heated cat beds come with removable covers that are machine washable. The heating element itself is usually not washable, so be sure to follow the manufacturer's cleaning instructions to maintain the bed's hygiene.
Q5: Can I use a heated cat bed for outdoor cats?
Some heated cat beds are specifically designed for outdoor use and are built to withstand the elements. These beds often have weatherproof features and are a great option to provide warmth to outdoor cats during winter.
Q6: How do I introduce my cat to a heated bed?
Cats are naturally curious, so placing the heated bed in a comfortable and quiet area where your cat often rests can encourage them to explore it. You can also place familiar bedding on top to make it more inviting. Additionally, turn on the heating element before introducing your cat to the bed, so they can feel the warmth.
Q7: Can I leave a heated cat bed on all the time?
Many heated cat beds are designed to be left on continuously, as they are equipped with safety features like automatic shut-off and thermostat control. However, it's a good practice to turn off the bed when it's not in use or when you can supervise your pet.


Conclusion
In the world of feline comfort, heated cat beds for winter emerge as essential companions. With a variety of options catering to different preferences and budgets, finding the perfect fit for your furry friend is made easier.
The K&H Dream Pod Heated Cat Bed stands as a beacon of quality, boasting a unique design coupled with an automatic heater that ensures your cat's coziness throughout the chilly season.
For those seeking a balanced blend of affordability and functionality, the Toozey Cat Heating Pad takes the spotlight. With its adjustable manual heater, it offers a tailored warmth experience, making it an ideal choice for budget-conscious pet owners, particularly during cold weather.
However, when evaluating the ultimate winner, the title of the best overall cat heated bed belongs to the K&H Thermo-Pet Cave. Its 2-in-1 design seamlessly transitions between a cozy cave and an inviting cuddle space, accompanied by an automatic heater.
In the realm of heated cat beds, these options cater to various needs, ensuring that your cherished feline companion remains snug and content throughout the winter months.