Best Interactive Cat Toys For Indoor Cats in 2023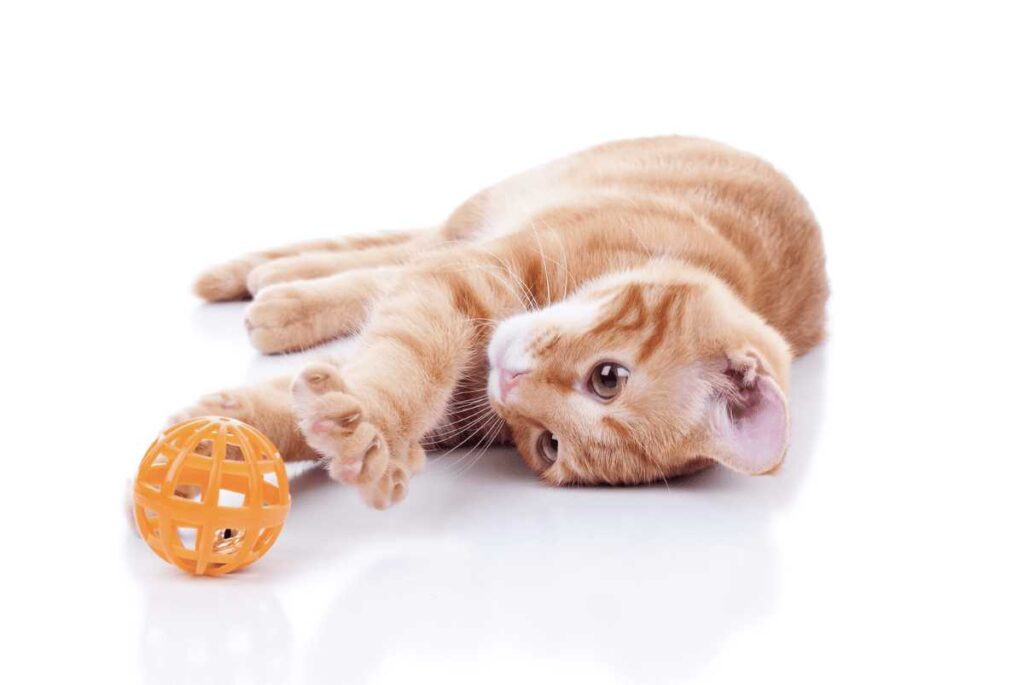 If you're a cat owner with an energetic indoor cat, the solution to curbing their excitement lies in interactive toys. As any cat owner knows, boredom is a cat's greatest foe. These mischievous creatures are constantly on the prowl, seeking stimulation to satisfy their primal instincts.
Interactive toys provide the perfect outlet, keeping them engaged, entertained, and out of trouble. Say goodbye to shredded furniture and endless zoomies!
These interactive toys are specially designed to captivate your cat's attention, provide mental and physical stimulation, and promote a healthier, happier lifestyle. This will keep your cat busy and unlock a harmonious balance between your indoor cat's natural instincts and their indoor environment.


Buyer's Guide: Why You Need Interactive Cat Toys For Indoor Cats
As a proud owner of an indoor cat, you understand the importance of keeping your pet cat entertained and content. Boredom can quickly become a cat's arch-nemesis, leading to destructive behavior and a dissatisfied demeanor. Enter interactive cat toys, the key to transforming your cat's indoor experience.
Indoor cats thrive on engagement, and interactive toys offer the perfect solution. Not only do they keep your cat entertained and mentally stimulated, but they also tap into their innate hunting instincts. These toys offer a lifeline, providing a constructive outlet for their boundless energy and curiosity.
This buyer's guide will equip you with the knowledge to make informed purchasing decisions. We will explore the key features, benefits, and potential considerations of each toy, empowering you to select the perfect match for your indoor cat.


How to Choose the Right Interactive Cat Toy
Choosing the perfect interactive cat toy requires careful consideration to ensure it aligns with your cat's needs and preferences. Here are key factors to keep in mind:
Cat's Personality:

Consider your cat's energy level and play style (e.g., active, laid-back, or curious).
Assess their preferences for chasing, pouncing, or problem-solving.


Toy Type:

Determine the type of interactive toy that best suits your cat (e.g., treat-dispenser, puzzle toy, wand toy, electronic toy).
Consider toys that mimic natural prey movements to engage your cat's hunting instincts.


Durability and Safety:

Look for toys made from sturdy materials that can withstand rough play.
Ensure the toy is free from small parts that could be swallowed or pose a choking hazard.


Interactive Features:

Evaluate the toy's engaging elements such as sounds, lights, or motion to captivate your cat's attention.
Consider toys with adjustable settings or different modes for variety.


Ease of Use and Maintenance:

Choose toys that are user-friendly, both for you and your cat.
Look for toys that are easy to clean or have replaceable parts.

By considering these factors, you can select an interactive cat toy that matches your cat's preferences, provides hours of enjoyment, and enhances their overall well-being.
Quick Overview for the Best Calming Pheromone Spray in 2023
Best Interactive Cat Toys For Indoor Cats in 2023
Here are the some of the best interactive cat toys for indoor cats in 2023 that you can buy at amazon along with a detailed description of which product may suit your cat best:
The BENTOPAL Automatic Exercise Electric Toy is a revolutionary toy designed to provide endless fun and exercise for your beloved pet cat. Inspired by RC cars, this innovative toy features dual motors, large wheels, a built-in G-sensor, and captivating 7-color LED lights.
The BENTOPAL P03 easily captures your cat's attention, inspiring them to jump, chase, and play. With automatic ON/OFF functionality, smart sensors, and 360-degree self-rotation, it keeps your cat engaged and entertained. That way you can relax knowing your cat is taken care of.
The toy is powered by a USB rechargeable battery, which offers up to 8 hours of playtime on a full charge. Additionally, it comes with three feather wands incase one breaks, a USB cable to charge the toy, and an instruction guide to help you set up the toy.
Introducing the Catit Play Circuit Ball Cat Toy, a remarkable 3-in-1 activity toy designed to captivate and entertain cats for hours on end. This versatile toy boasts a cardboard scratch pad that effectively keeps your feline's claws away from your furniture.
The exciting circuit ball cat toy entices your cat to engage in thrilling chase sessions, while the crazy bouncy bee appeals to their natural hunting instincts, encouraging swatting and capturing play. To further enhance the experience, catnip is included to ignite your furry friend's curiosity.
This product is suitable for cats of all ages, the Catit Play Circuit Ball Cat Toy offers a comprehensive playtime solution that promotes physical activity and mental stimulation. This toy is specially guaranteed to work for owners who hyper-active cats.
The PetSafe – Automatic Cat Laser Toy is a versatile and engaging playtime companion for your pet cat. With its hands-free Automatic Mode, the toy creates unpredictable laser patterns using a mirror, captivating your cat's attention for 15 minutes of independent play.
For interactive fun, you can switch to Manual Mode and pick up the laser toy to guide the laser and play together as long as you'd like.
This laser toy stimulates your cat's natural hunting instincts, preventing boredom and distracting from destructive behavior. With a focus on safety, the PetSafe Laser Toy meets global quality standards so there is no need to worry about any dangers for your beloved pet. Additionally, the built-in timer automatically shuts off after 15 minutes, conserving battery life.
You can rest easy and enjoy peace of mind knowing that PetSafe's U.S.-based customer care team is available to assist you and your pet should you run into any problems.
The Cooenia Cat Toy Roller Scratcher Pad is the perfect scratch pad for your cat. It is a 2-tiered interactive toy designed to engage and entertain your pet cat. With its unique design featuring rotating wooden balls, including a bell ball, this cat scratcher turntable stimulates your cat's hunting instinct and encourages interactive play.
The natural sisal material used in the scratching pads provides durability, allowing your cat to indulge in satisfying scratching sessions while protecting your furniture. The oval wooden base ensures stability and safety, while the non-slip bottom prevents tipping or shaking during play.
This 3-in-1 toy promotes exercise, mental stimulation, and alleviates destructive behavior, providing hours of entertainment and helping to keep your cat fit and happy. With a focus on quality and customer satisfaction, the Cooenia Cat Toy Roller Scratcher Pad offers a safe and engaging play experience for your beloved feline friend.
Note: Since this product has 4 variants, we would recommend you go for the turntable scratch pad variant as the arch scratch pad variant has been known to break easily.
The TRIXIE Cat Activity Fun Board is a stimulating and interactive puzzle game designed to engage the clever and inquisitive nature of cats. With five levels of challenges, this activity center provides endless fun for your pet cat.
It will force your cat to use their senses of sight, smell, hearing, touch, and taste to navigate the puzzles and earn their rewards. This will help alleviate their tendencies to hunt their own food.
The slow eating design promotes weight control, while the mental stimulation keeps cats entertained and engaged. With options for beginners, intermediate, and advanced levels, this activity board is suitable for cats of all skill levels.
The set includes a booklet with helpful tips and tricks to enhance your cat's play experience. It is also dishwasher safe so you can clean it easily. The TRIXIE Cat Activity Fun Board is the perfect interactive puzzle feeder toy to keep your cat entertained and mentally sharp during meal times.
OurPets 100-Percent Catnip Filled Toy is a delightful and enticing toy that brings out the playful side of your pet cat. Made with North-American-grown Cosmic Catnip, this toy boasts the strongest and most aromatic catnip, sure to drive cats wild when pinched. The 100% natural herb stimulates a harmless, playful reaction in most cats, providing a fulfilling and enjoyable playtime experience.
This interactive cat toy encourages physical play and mental stimulation, appealing to your cat's natural instincts. It offers both mental and physical stimulation, keeping your cat engaged, fit, and mentally sharp. Moreover, playtime becomes a great stress-reliever, helping your cat relieve anxiety and boredom.
This toy is for cats of all ages, promoting activity, aiding in food digestion, and fulfilling their natural hunting instincts. With the OurPets 100-Percent Catnip Filled Toy, your pet cat is guaranteed endless fun and entertainment. There are up to 6 different toy styles that you can choose from depending on what you think will entice your cat the most. They are all filled with the finest North-American-grown catnip, to satisfy your kitty's playful needs.
The HEXBUG Nano Robotic Cat Toy is another great interactive and stimulating toy designed to entertain and engage your pet cat. With its powerful vibration technology, this toy autonomously navigates around your home, changing direction when it encounters obstacles, ensuring endless playtime for your cat. The HEXBUG Nano Robotic Cat Toy taps into your cat's hunting instincts, allowing them to chase and trap their "prey" with excitement.
It is a budget friendly toy that offers playfully energetic movements, mimicking the behavior of real bugs, captivating both cats and humans alike. The feather tail adds to the allure, calling the attention of nearby cats. Exercising your cat has never been simpler, as the sporadic directional change promotes regular exercise for a healthier and happier feline.
Please note that this toy works best on flat surfaces and may encounter difficulty on thick carpets. The styles and colors are selected randomly at the time of shipment, adding to the element of surprise and delight for your pet.
This HEXBUG Nano Robotic Cat Toy is intended for pets only and should not be used as a children's toy. You may need to ensure your pet's safety by supervising play and promptly removing the toy if any part becomes loose, damaged, or detached.
The Earthtone Solutions Wool Felt Ball Toys are the perfect playtime companions for your beloved cats. These premium quality cat ball toys are handmade with natural wool and eco-friendly non-toxic dyes, ensuring a safe and engaging play experience for indoor and outdoor cats alike.
These soft, silent, and well-made 1.5-inch felt cat balls come in a delightful rainbow of colors – blue, purple, green, red, pink, and yellow, stimulating your cat's hunting instincts and providing hours of interactive fun. However, the product does not contain catnip, but the design and style of the balls itself is enticing enough for cats to get attracted to.
Earthtone Solutions also offers a range of handcrafted felted wool cat caves and cat toy products, making them your one-stop shop for high-quality, engaging cat toys. With these felted wool toys, you and your cool little cat will have countless hours of fun and bonding time.
The Potaroma Cat Toys Flopping Fish is the ultimate interactive toy for your feline companion. It is equipped with a built-in motion sensor that creates a realistic fish simulation making it wiggle in a way that is enticing for your cat to kick and play with. You can relax and watch as your kitty stays engaged and entertained, alleviating boredom and loneliness, even when you're away from home.
The product has been upgraded with a larger battery capacity of 350mAh and improved mechanism joints for extended durability which makes this fish toy offer longer playtime and lasting fun. The soft and durable plush material ensures safe chewing and wrestling, while the included silvervine and catnip pouch further enhances your cat's excitement.
It is USB chargeable which means you don't need to worry about replacing it's batteries making it highly convenient and eco-friendly. This fish toy is a must-have for every cat owner. However, do note that if your cat is timid or specially known to be scared of sounds then it may not appreciate the mechanical motor inside as reported by some cat owners.
Introducing Flurff Zenes Cat Toys – the ultimate interactive toy to keep your feline friend engaged and entertained. With its 360-degree rotating butterfly that glows in the dark, your cat will be inspired to scratch, hunt, and play, providing healthy mental and physical stimulation. The easy-to-use on/off switch allows for instant activation, and the sturdy, non-slip base ensures stability during lively play.
This cat toy promotes exercise, helping your cat avoid obesity. It comes with two replacement butterflies that are resistant to scratching and biting, ensuring long-lasting fun. Backed by a one-year warranty, Flurff Zenes Cat Toys guarantee your satisfaction. Watch your cat indulge in natural hunting instincts and enjoy hours of playful fun with this lifelike fluttering butterfly toy.
The SmartyKat Hot Pursuit Motion Cat Toy is another great interactive toy that mesmerizes cats with its concealed motion and moving lights. This electronic toy replicates the erratic movements of hidden prey, enticing your feline friend to give chase, swat, and pounce, transforming playtime into a healthy exercise.
The replaceable wand features ribbons and an irresistible plush toy, ensuring durability and engaging your cat's innate prey drive. With two speed controls, you can customize the wand's movements to match your cat's play style. The easy-to-use button allows for instant activation, providing hours of stimulating play.
SmartyKat the brand, is committed to pet safety, customer satisfaction, and environmental responsibility. It is designed to meet or exceed safety standards with no harmful parts in the product, this toy offers a fun, exciting, and safe playtime experience for your beloved pet cat.
Introducing another product by the SmartyKat brand, the Frisky Flyer Feather Wand. Swing and twirl the cat wand to engage your pet cat in exhilarating play that stimulates their instincts and gets them moving. This interactive toy promotes bonding between you and your cat and is perfect for playtime with your furry companion.
The Frisky Flyer comes with a bonus catnip toy, irresistible to cats, making playtime even more exciting. Catnip's aromatic oils create a euphoric buzz in most cats, encouraging bursts of energy and playful behavior.
Made with soft plush, long faux fur, fluffy feathers, ribbons, and a jute cord, this toy mimics the feel of real prey, enticing your kitty to swat, swipe, stalk, pounce, and chase. It transforms playtime into exercise, promoting your cat's health and fitness.
Introducing the Ownpets Cat Tunnel – a durable and entertaining playground for your pet cat. Made of tough and long-lasting Oxford fabric, this grey-colored tunnel provides endless fun without making any crinkle sounds. Its collapsible portable design allows for easy storage and convenient travel.
The 3-way extensible curve tunnel is a unique feature that expands the play area for your cat. Each spacious channel offers obstacle-free exploration. Suitable for cats, puppies, rabbits, weasels, and more, this tunnel is perfect for little pets to exercise.
The fun doesn't end there – the cat tunnel comes with a feather wand, drop balls, and peep holes for extra recreational activities. Your pets are guaranteed to remain active and engaged with this interactive toy. It is specially worth it for cat owners with multiple cats while single cat owners will no doubt also enjoy seeing their cat play in these tunnels.
The Cat Dancer Products Rainbow Cat Charmer is the ultimate interactive toy for your pet cat! Watch as your cat is captivated by the vibrant rainbow fleece and polycarbonate wand, providing hours of engaging playtime. This cat wand is an irresistible lure that will keep your cat active and entertained.
Made with premium quality, non-toxic materials, this cat toy is safe for your furry friend to enjoy. Not only does it provide fun and excitement, but it also serves as a perfect cat exerciser. Interact with your cat and help them stay fit and healthy, while releasing their extra energy and reducing boredom.
The Cat Dancer Products Rainbow Cat Charmer also makes a thoughtful gift for any pet lover or their beloved cat. However do note that many owners have reported their cats becoming aggressive due to cat charmer toys therefore always supervise your cat when they playing with this toy and do not leave them alone with the cat charmer.
The PetFusion Interactive Electronic Cat Toy is another great electronic toy to captivate your cat's attention and satisfy its hunting instincts. This unique and stimulating cat toy simulates prey popping out from 6 entries with a randomized and fast-paced feel, accompanied by LED lighting for day or nighttime play.
Not only is it entertaining, but this interactive toy also helps keep your cat nimble, physically fit, and mentally stimulated. It's a great alternative to traditional cat toys like puzzles, lasers, and feather wands. The toy's anti-skid feet ensure it stays securely in place on smooth surfaces.
With multiple levels of play, including fast and slow modes, this automatic cat toy keeps your pet cat engaged and entertained. It even comes with a 12-month warranty and replacement feathers for worry-free playtime.


Frequently Asked Questions (FAQs)
Here are some of the most commonly asked questions for pet owners that are trying out new interactive toys for their cats, hopefully this helps you clear away any further doubts you may have on this topic:

Q1. What are interactive cat toys, and why are they essential for indoor cats?
Interactive cat toys are specially designed toys that engage and stimulate a cat's natural instincts to play, hunt, and explore. These toys require the cat's active participation and provide mental and physical exercise, preventing boredom and promoting a healthier lifestyle for indoor cats. They are crucial for indoor cats as they help prevent behavioral issues and obesity caused by inactivity.
Q2. Are interactive cat toys safe for cats?
Yes, most interactive cat toys are designed with safety in mind. However, it's essential to supervise your cat during playtime to ensure they don't accidentally ingest any small parts. Always choose toys made from non-toxic materials and avoid toys with small, detachable pieces.
Q3. How do I introduce my cat to interactive toys?
To introduce your cat to interactive toys, start with slow movements and allow them to approach the toy at their own pace. Use treats or catnip to entice them to interact with the toy initially. Gradually increase playtime and vary the toys to keep them engaged.
Q4. Can older cats enjoy interactive toys?
Absolutely! Interactive toys are beneficial for cats of all ages. For older cats, choose toys with slower movements and consider those designed to encourage gentle play and stretching.
Q5. How do I clean interactive cat toys?
Cleaning instructions may vary depending on the toy's materials. For fabric or plush toys, spot clean with a mild detergent. For plastic or rubber toys, use warm, soapy water to clean thoroughly. Regular cleaning will ensure your cat's toys remain safe and enjoyable for years to come.
Conclusion
In conclusion, when it comes to providing endless entertainment and mental stimulation for our indoor cats, interactive toys have proven to be an essential investment for any pet owner. In our quest to find the best interactive cat toys for indoor cats in 2023, three products stood out as the special highlights, each offering unique features to delight and engage our feline friends.
The Cooenia Cat Toy Roller Scratcher Pad truly impressed us with its 3-in-1 design, providing both a scratch pad and bell design balls to keep cats entertained for months and even years. Its premium build ensures durability and longevity, saving your furniture from sharp claws.
For those looking for a budget-friendly option, the OurPets Catnip Filled Cat Toy emerged as the top choice. This simple yet effective toy, filled with catnip, requires no batteries or recharging, making it an easy and affordable option for playtime.
However, the crown for the best overall interactive cat toy goes to the Potaroma Cat Toys Flopping Fish. This rechargeable toy not only mimics real prey with its erratic movements but also allows for the addition of silvervine or catnip to further entice our curious cats.
In 2023, interactive cat toys have come a long way in providing endless fun, exercise, and mental stimulation for indoor cats. As pet owners, it's crucial to engage our pet cat with these entertaining toys, promoting their overall wellness, happiness, and emotional well-being.
Remember to always consider your cat's preferences and needs when selecting the perfect interactive toy, as each feline friend is unique in their own delightful ways. With the right interactive cat toy in hand, pet owners can create memorable bonding experiences and enrich their indoor cat's lives for years to come.